Why Prozone Member?
ProZone is a premium membership program dedicated to continuing the education of Laughter Yoga Professionals. As the demand for Laughter Yoga is increasing worldwide, LY Professionals need to keep upgrading their knowledge and skills as LY is constantly evolving.
This premium membership will help you to maximise your potential in Laughter Yoga's different areas of application, such as Companies and Corporations, Seniors, Schools, Colleges, Universities, People with special needs and Social Laughter Clubs. It will keep you updated on the new programs developed by Dr Kataria.
Dr. Kataria and his team at Laughter Yoga International HQ in India is dedicated to helping and supporting it's ProZone members with monthly newsletters which includes: quarterly ProZoom calls with Dr.Kataria, new Laughter Exercises, breathing techniques, business/training tips and scientific research articles.
Building Your LY Business
You will be listed on our website: Post COVID the demand for laughter yoga has increased exponentially. Our international website is getting more 30,000 unique visitors every day. By becoming a ProZone member you will be listed on our website and people can find your profile page. (Have a look at the sample profile) You will get invitations to be a speaker in corporates and other organisations.
Post your trainings and events: ProZone membership allows you to post your trainings and events. When people search trainings you will get more sign ups for your training programs. (Have a look at the sample training and event page).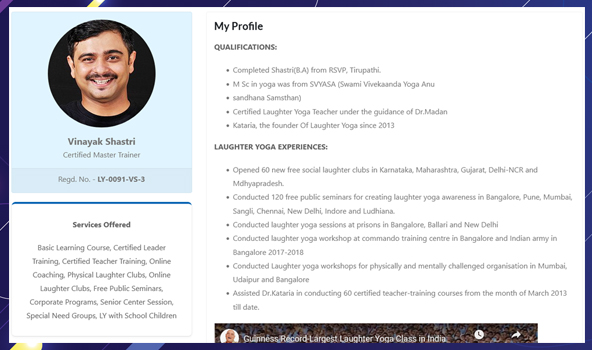 Download Resources
We have created several templates and artworks for promotional material like banners and standees. Also you will find laughter yoga photos which you can use for the promotion. You can also download original research papers on laughter yoga.
Exclusive Facebook ProZone Group
ProZone members have access to a private group on Facebook where people share their experience and learn from other LY Professionals on a daily basis. Dr Kataria shares exclusive content for members only.
Free ProZone Membership
If you have completed LY Leader or Teacher Training, you will receive:
6 months LY Leaders
1 year LY Teachers
Dedicated Support Team: If you need any help, you can reach us at help@laughteryoga.org.