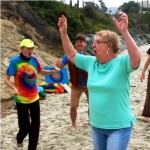 Carole Holcomb
2 Day Certified Leader Training
Date : July 15, 2023 to July 16, 2023
2 Day Certified Leader Training
Join Laughing Ginger and Carole Holcomb for 2 days of Laughter and Fun as you become a
Certified Laughter Yoga Leader!
Training is IN-PERSON
The 2-day training includes:
--How to lead Laughter Yoga sessions
--Health benefits
--Breathing and relaxation meditations
--Participating in 50-60 Laughter Yoga exercises
--How to Create your own Laughter Yoga exercises
--Solo Laughter
--Laughter Yoga exercises for specific Communities (medical, seniors, children, etc.)
--How to market Laughter Yoga to the Community you are interested in
And of course, your GRADUATION!
Once you are Certified support is available through a variety of ways: by telephone or email at any time either from either of us or from other CLYL/Ts if we can't help, additional workshops, Closed California FB page (even for those out of the area) for CLYL/Ts, Facebook Prozone, and Prozone Int. A file on Dropbox is available to you containing research, graphics, logos, etc. Our goal is to help you succeed!