Taizo Yokokawa, Tokyo, Japan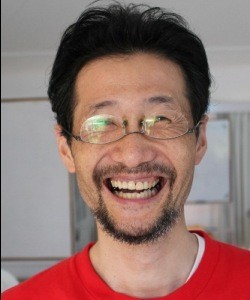 Taizo Yokokawa, Japan: I came to know about Laughter Yoga through a television program in August, 2009. I was greatly inspired by laughter professionals Mary and Takashi Tadokoro, and the unique concept of Laughter Yoga in which anyone can laugh without relying on humor, jokes, or comedy. I just felt, "That's it!"
For a long time, I used to think that just smiling can make me feel better. But soon it became difficult, especially while working. In fact, my boss often told me to wipe the smile off my face. So I decided to attend the Tokyo Laughter Club in September to learn more about Laughter Yoga and its benefits. Initially, I felt nervous because there were no friends, and I was not good at laughing for no reason. It took three months for me to feel better, after which I changed my way of thinking from pessimistic to optimistic. I also became more active and felt more energized throughout the day.
Soon after, I started a Laughter Club at Shirokane, Tokyo with just two leaders, but today we have 10 participants and the number is steadily growing. It is a pleasure to see how people, change with the very first session of Laughter Yoga. They learn to laugh more and become more joyful and happy. Their attitude becomes more positive, and they feel very relaxed and are able to handle stress in a much better way.
Laughter Yoga has really made me very happy and I know that it will keep me well throughout my life.