Promoting Laughter Yoga Training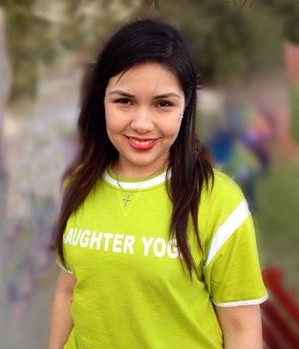 Mayra Avila, USA: I first heard about Laughter Yoga when I was working for a community clinic. I was preparing for a wellness group especially for women and I decided to include a laughter session to see what it was. After seeing the session in action, I thought it was a neat and unique exercise but after hearing the participants' comments about how much they had enjoyed the session, I decided to look more into it and decided it was something I wanted to do. It took me about a year to finally obtain my certification.
I have struggled with low self-esteem issues for years, as far as I can remember and just the fact of becoming a Laughter Yoga leader was a big challenge for me. I never thought I could stand in front of others or even lead a group and obtain full attention. But after my training, I began offering free sessions. I started realizing that not only was I helping others but was also helping myself in my personal and professional life. After every laughter session, I feel more centered and with more energy to work or be mentally present for my family. Also, my mood is balanced and I am able to enjoy little things in life that I would take for granted. For example, now, I enjoy going to a circus, walking in the rain, making new friends and more than anything, laughing at life stressors.
Being a Laughter Yoga teacher has helped my confidence level and I feel that I am ready to face any life challenges. I have decided to make Laughter Yoga as my focus in the near future and will continue to teach others the importance of adding laughter to their day. Standing in front of crowds is easy for me now and I feel calm and comfortable talking, laughing, playing, singing and even dancing in front of others. I have regained joy in my life and it has helped my life in many different aspects. I have a healthy self-esteem, better communication and social skills thanks to the work I have done with Laughter Yoga.
With the 2 1/2 years that I have been practicing Laughter Yoga, I have noticed that I love my life regardless of my situation. Others have noticed a different me and I love being a role model to other individuals that are facing low self-esteem issues. I have seen a change in most of the individuals that attend my laughter sessions since many of them learn to cope with different life stressors or mental health issues. Even, my toddle daughter practices Laughter Yoga with me haha!
I am very thankful for my community that has believed in me and did not let me down when I was the only one practicing Laughter Yoga in my area. It was challenging to offer a session and people were initially puzzled about what I was doing. Now, everything has changed. Laughter Yoga is being more recognized and known for all the good benefits that it has to offer.
Mayra L. Avila, LCSW
Volunteer
Hope Family Health Center
2332 Jordan Rd.
McAllen, TX 78503
Phone: (956) 994-3319
Fax: (956) 971-9377
mavila.hfhc@gmail.com
www.hopefamilyhealthcenter.org