Laughter Yoga Increases Happiness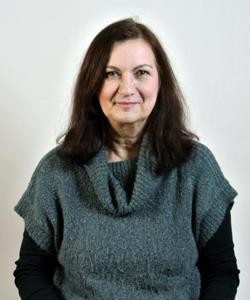 Loretta Bert, Italy: After graduating I worked as a technical trainer in the IT industry for a short while, after which I became an Education Manager, and since 2000 have been working as a free-lance in training and coaching for companies and universities.
In my job, I've always tried to have a positive and smiling attitude. With NLP (Neurolinguistic Programming) I modified my view of life, becoming even more flexible with my students and open-minded. But, it was during a research I was doing on empathy, in 2004, that I actually got involved in a specific study on the benefits of laughing. I tried to combine laughter practice with yoga (I'm practising yoga since I was 16), and found an interesting website, www.laughteryoga.org. My curiosity led me to read more about Dr. Madan Kataria, who found a unique method to improve the quality of life through laughing for no reason.
In spite of my NLP practice, in spite of my courses on personal development, in spite of the positive attitude that, in many situations, helped me to face obstacles both in my personal and professional life, I found myself going through a rather troubled period. The uncertainty was deep, and the economic crisis was affecting my job. At the same time, my daughter decided to travel abroad, far from home, for the first time in her life. I felt lonely and deeply worried both for her and myself. Nevertheless, I didn't give up and tried to use my creativity. I had to do something. I knew I needed more laughter in my life, but how?
One day, finally, I found the courage to send a message to Dr. Kataria, speaking to him about my good will in cooperating in his great idea. I must admit I had no expectations and just did it without thinking. So, I was really amazed when I got an answer from Dr. Kataria. I was even more surprised when I could speak to him via Skype. I started laughing with him on the phone and every time I spoke to him, I felt a deep energy inside me and my life quality was gradually improving.
Later, I got the opportunity to train with him in Interlaken which was like a revelation. Though I ran a laughter club earlier, the training helped me to better my skills as a leader and my laughter sessions became more energetic. My job, my family, everything started to change. Now, I'm able to laugh even when I'm alone (I do it as a regular workout!), I feel happy and am also able to make others around me happy. Deeply inspired by Laughter Yoga, I'm still doing my research in empathy as I feel empathy and laughing are strictly connected and are both important levers for changing the world. I am now more aware of the physical and spiritual benefits of Laughter Yoga as it dramatically changed my life.