Laughter Yoga for Wellbeing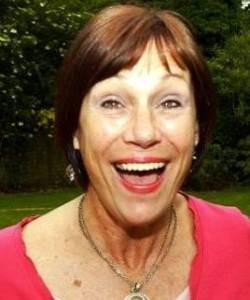 Julie Whitehead, London: I am a Certified Laughter Yoga Teacher and I have practiced Hatha yoga for over 30 years and thought I had a very positive attitude to life – but in 2001 when I saw Dr Kataria on the TV laughing on a beach in Mumbai with John Cleese – I realised that I wanted to get more laughter in my life! Shortly after that I saw a magazine article saying that Dr Kataria was coming to England in June 2002. I attended this workshop and "Laughed like I had never laughed before" and was hooked. I gave up the day job and decided that I wanted to spread laughter and happiness in our society.
With the combination of laughter and yoga my physical health is really good and I am never ill. Generally I wake up feeling happy but if I feel a little low, I just do my smiling exercise and wriggle all the way down to my toes and the joyfulness starts to spread and I know I will have a good day. I always give Thanks and show gratitude for the wonderful things I have in my life.
Before becoming a Laughter Leader I was sometimes wary of certain people, but now I feel able to hug and empathise with all people in our society. Laughter Yoga has opened my heart and I love spreading the joy and happiness I feel to whoever wants a bit more laughter in their life.
I often give Laughter Health talks and have gained confidence in public speaking as well as developing and encouraging a "Yes I can" attitude in people. I have laughed in the boardroom to the school room, from hospital to care homes and know that everyone can benefit from this wonderful practice of laughing, irrespective of age, background or ability.
Laughter Yoga has changed my life and I know that it can help people change theirs!