Laughing to withstand every unexpected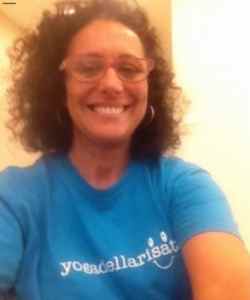 Laura Toffolo, Italy: I like to tell you what happened to me recently. Also, I was invited to share my experience by Dr. Kataria. On September 15th, I was in Milan railway station (Porta Garibaldi), coming back from one of my tours around Italy to share Laughter Yoga. I had taken part to a "white night" and to a Leader Training, with a very smart teacher, Elena Barbagallo. I also had been to visit Bruno (my quadriplegic friend) and his wife Luisella in Ponte S.Pietro. While I was quickly running to catch my train, I bumped into my suitcase with my right foot little toe. It hurt a little, but not so much, as, perhaps, there were many endorphins in my body after 5 laughing days!!! Nevertheless, my little toe was completely crooked and was visibly protruding from my sandal.
Finally, I was in the train and, there, I wrapped my toe into a "bandana", I put some ice on it and tried to keep my foot up. I started to pray and relax. So, during my journey, I had also a little sleep. When, at last, I came to Rome, I asked my son Lorenzo, who was there to pick me up at the station, to take me to "CTO", a hospital, not so far from there, specialized in bone traumas. The doctor diagnosed a fracture of the first phalanx.
I asked what I had to do with my toe. He told me to keep it narrow-banded and, after 20-25 days of rest, it would have been completely healed. But, first of all, they had to put it at its place with a …very painful work. So, I remembered Ann-Marie Kjellander who had an intervention on her tooth, laughing hard, without anesthesia, and Loretta BERT who had a similar work on her broken wrist among deep laughters. I wanted to try the same. So, I asked for permission to laugh, while they were working on my toe. I started to laugh with my knees on my belly. While I was laughing ….crack… the four people (doctor and nurses) did their job and evrything was done, without pain!!!! Power of laughter!!! They were all amazed, they told me they had never seen such a thing in their life. Of course, I was wearing a t-shirt with "laughter yoga" written on it (in Italian), so they were curious about it. I'm sure they wanted to know more on this subject and went on the website, afterwards.
The night passed quietly, as I had so many endorphins inside.
The next day, I gave a Laughter Yoga workshop for a corporate, as planned, and, in the next week-end, I took part to Yoga Festival in Rome, giving a seminar and supporting my colleagues, who gave so many LY classes.
Now, after 15 days, I'm leaving to Japan. It's a journey I planned with my sister, who shares with me the Buddhist faith. I'm sure that prayers, the courage coming from my faith, and a lot of laughters will help me to walk better and better, even if my toe is not yet completely healed.