How I Came To Laughter Yoga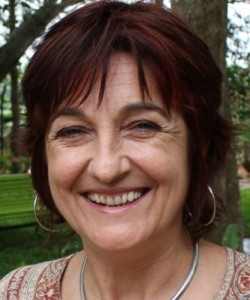 Dr. Ute Meinel, Egypt: I owe the fact that I became interested in Laughter Yoga to my father, which is a bit of a paradox. My father, an academic with a scientific background, widely read and traveled was a very rational and serious man. He was proud of his intellectual capacity of getting to the bottom of things through critical questioning. Early on in life, I too became skeptical of everything and did not believe in anything blindly.
Rebelling daughters have the tendency to do things totally contrary to how their fathers live, and so it was not astonishing that I developed a keen interest and passion for ancient spiritual teachings, healing arts, mystical traditions and new age literature.
My father was not a happy man. He was not depressed either but seemed weighed down by his early experiences of being a very young soldier during the Second World War. Many Germans from that generation share this heaviness and the atmosphere that prevails around them of being bogged down. I didn't want to be like that. In fact, I wanted to be totally different. Even though I recognized the same rational mind and the same heaviness in me that was so typical of my father, I aspired to become lighthearted and joyful.
I first heard of Laughter Yoga when I was attending a free training course in London offered by the Coaching Academy. I had decided to take some time off from working and to dedicate myself to transforming into a happy person. I had brought a rather difficult work assignment of one and a half years in the so-called garbage city of Cairo to an end during which I had learnt the pivotal importance of taking very good care of myself in order to get through it well. And it was this assignment that gave a huge push to my pursuit of happiness. It was then that I was seeking for yet another career change that would bring me my vocation, or at least another line of work that I was more passionate about.
So there I was contemplating to sign up at the academy to become a coach and meeting many people who were in the same situation. Sitting next to me was a very warm woman in her middle age who had obviously felt a strange urge to tell me, a total stranger, about her sister. "She was a very successful happiness facilitator", she said. Those words sounded so strange and so awesome that I said: "wait a minute I need to write that down". And I did.
"Happiness Facilitator" – it resonated deep down inside and so it struck me, "this is what I want to do". Without knowing anything about it, it just simply made so much sense to me somehow.
The lady told me that her sister had initiated a laughter network and was teaching laughter in some of England's major corporations. I was amazed that something so beautiful actually existed. On that very day I enrolled at the academy.
Two years later the laughter network story was brought back to my attention. A very close friend of mine sent me an email on World Laughter Day. And again I had never heard about the fact that there is such a day in the first place. So I got curious and checked the link she sent me. On the website of Dr. Madan Kataria I found the information on his trainings. And when I read that he was going to hold a teacher training course during August in Bangalore, I knew that this was what I wanted to do for myself during that particular summer of 2011. I was drawn to it without knowing what it was all about and I certainly had no clue that it would change my life. My purpose now is to inspire and assist people in their quest for more happiness and better health.
Dr. Ute Meinel, Consultant & Coach, Advisor to the Ombudsman Office
National Council for Human Rights
Tahrir Street, Dokki
Cairo, Egypt
Mobile: 0020-100-6577074