Singing And Laughing With Seniors In Switzerland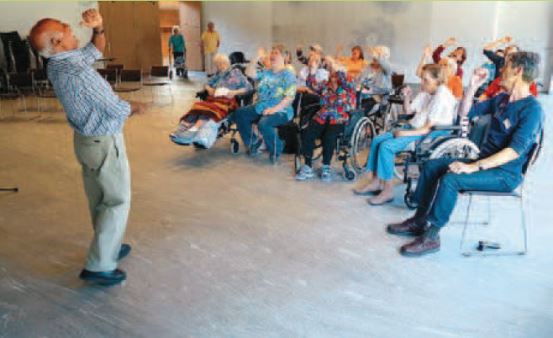 Vijay Singh - CLYT, Zurich Switzerland: Here is an interesting report of how Mattenhof – Irchelpark (PZZ), a senior center in Zurich Switzerland, has successfully incorporated the element of singing while conducting laughter sessions with people aged between 65 to 88..As observed it actually helps to change their mood state and gives them a feeling of joy and happiness.
This so called "Open Singing" has a long tradition at this center, and has been going on for more than two years. The center has developed its own concept - combination of singing, laughing and breathing during one hour.
The seniors begin the session with various breathing and exercises. Some of them, who cannot clap their hands, do this their own way, as they have different clinical syndromes. After 10 minutes they all do various laughter exercises followed by singing. One animator plays the guitar and sings the songs. During these songs, they play small music instruments, to make their own rhythm. They sing together well-known old folk and pop songs, mostly in German, bringing back old memories and emotions of happiness as well as sadness. The singing and the music brings people together, helps them against loneliness and pain and brings a sense of well-being.
Among the laughter exercises, they like doing milkshake laughter, laughter cream, aloha laughter, opera glasses, Calcutta laughter and royal laughter. They laugh together and later leave the hall with happy faces. At the end of the session, they always inquire about when to come back next!