Laughter Yoga: Works Like Magic!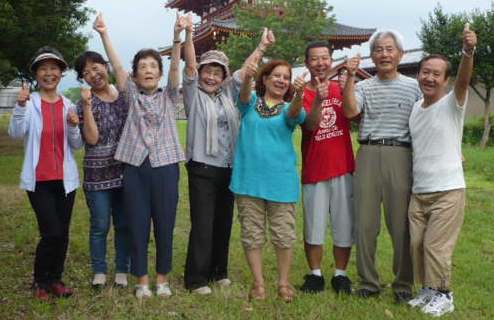 A report by Adarsh Sharma, Adarsh Laughter Yoga Club, Nara
On 12th September, 2013, 12 members of our Adarsh Laughter Yoga Club had a chance to visit Yamashiro Nokumori no sato in Kizu city, Kyoto Prefecture. We were led by the staff to the main hall, where I saw some people sitting on chairs, some on wheel chairs and some lying on the beds near the walls. It was my first experience, and I was bit nervous to see their blank and listless faces.
Before starting, I took a deep breath and silently prayed in my heart. I introduced myself and other members and slowly we started inhaling and laughing. Within few minutes, I could see the facial expressions on most of the faces became gentle and their eyes had a twinkle. And by the time we started ho ho ha ha ha, almost everyone was clapping joyfully and ho ho ha ha ha became ton ton ta ta ta or chon chon cha cha cha!!
Next, when we had the game 'Laughter Greetings, Hello', after which many held my hand and wanted to know about the next session. Tears rolled down my eyes for two reasons. One, I couldn't laugh with my own parents like this and they are no more, another is laughing is such a magic that it works beyond the barriers of age, language and nationality. Besides, all of us members felt united and contented. It was a blissful experience for everyone.