Laughter Yoga With Bank Employees In Beirut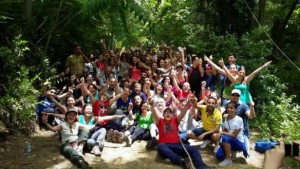 Sabine Jizi a Certified Laughter Yoga Teacher from Beirut, Lebanon recently organized a laughter session with 96 employees from Bank Audi who laughed it off in Mokhtara! The participants thoroughly enjoyed themselves and went back feeling relaxed and energized.
Laughter Yoga is a great exercise routine that has the ability to relieve physical, mental and emotional stress simultaneously. Bank employees face a lot of stress as they deal with various clients and have to often handle difficult transactions. Starting their day with laughter will ensure that they remain happy and relaxed throughout the day and can work more without getting tired.
As banks are a place for people interaction, Laughter Yoga is an ideal way to boost employee-client relationships. Many times certain transactions involve frustration and anger, but with Laughter Yoga one can overcome these negative emotions as it has the ability to change your mood within minutes. And if your mood is good, you feel good within and will always have a smiling face and a positive outlook.
Group laughter on a regular basis can create a happy and motivated workforce which includes a strong team building element and enhances self confidence and communication skills, all of which are essentials for banking business.