Laughter Yoga In Moscow Russia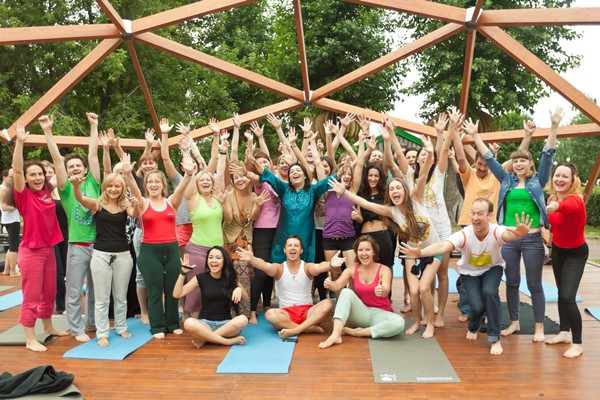 Anju Shahani, Moscow: On June 23, 2013, I held a very successful public laughter session in Park Art Muzeon, Moscow. Though it is not permitted to hold a public sessions on the streets in Moscow, I succeeded in convincing the Yoga federation of Russia the facts about Laughter Yoga and its benefits to the Russian society, and finally got the approval of hosting Laughter Yoga in public parks in Moscow.
Over 50 new Laughter Yogi's in colorful fitness wear, all health and yoga freaks or lovers curiously waited for the class to start and to see and try Laughter Yoga. They were all ready with big smiles to embrace this new technique which they heard for the first time. It was beautifully organized with the support of the Yoga federation and the Organic as they were fully equipped with yoga mats for everyone; a good music system etc.
Totally non- judgmental and giving their 100% participation , everyone of them got so physically and mentally involved that the class lasted for one and half hours instead of an hour. The most popular laughter exercise was the "meeting a friend at the airport after years," and everyone ran with excitement hugging each other like they really knew each other for so many years. The session included Laughter meditation and then finally ended with a 20 minute Yoga Nidra meditation.
Everyone was so friendly and receptive to this technique, and surprisingly the entire class was conducted in English with my half broken Russian! I was feeling so energized and positive the whole day and was very excited about the new milestone we crossed, "Laughter Yoga in public parks in Russia"!
We will be having more public FREE Laughter Yoga sessions in parks. As there is no age limit for Laughter Yoga, you can bring along your parents, grandparents and children to participate and make your Sunday a really productive one.
Watch out for more information on venues and dates.