Laughter Yoga In Johor Bahru Senior Center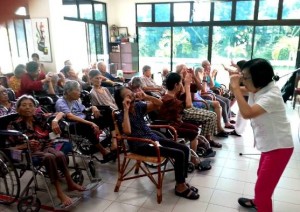 Laughter Yoga leader Mk Ong leads a Laughter Yoga session with seniors at Hillville Aged Care Center in Johor Bahru, Malaysia every 1st Tuesday of the month from 10am to 10.30am. Recently, on the occasion of Parents Day, the session was well attended by the residents who eagerly participated in various laughter exercises.
Faced with age and age related troubles, seniors find that their physical and mental faculties decrease. Even the ability to laugh reduces because as one ages the capacity to understand humor decreases due to the onset of senile dementia, Alzheimer's and other diseases.
Laughter Yoga is an ideal exercise for seniors as it does not require any humor or mental abilities, thereby enabling them to comprehend humor without using their mental faculties. A good hearty laughter gets rid of stress, worry and depression, and alleviates feelings of loneliness and isolation.
Laughter brings several positive changes. It reduces the risk factors for cardiac diseases, lowers blood pressure and cholesterol levels and alleviates pains and aches due to different types of arthritis. Due to lack of proper breathing, seniors don't get much oxygen which is the root cause of many ailments. Scientific studies have proven that laughter exercises and Yoga breathing is a great way to increase the net supply of oxygen to the body cells and maintain good health and well being.