Laughter Yoga At Qigong Event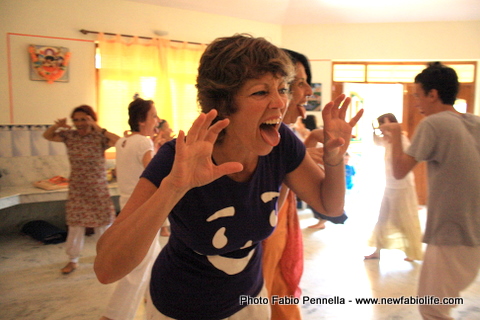 Report by Monnet Zubieta, CLYT
A few days ago, I interviewed Master Mingtong Gu, an internationally recognized Qigong teacher and healer for 'More Joy – the Laughter Show'. We talked about the healing benefits of laughter and Qigong, an ancient Chinese healthcare practice which enhances body – mind fitness and also helps in the cure of stress as well as degenerative and chronic diseases.
As Laughter Yoga and Qigong have some similarity, Mingtong invited me to conduct a laughter session for participants at a sound healing event organized on September 25, 2010. About 600 people came together at the Marin Civic Center Auditorium for healing and happiness. The auditorium has fixed seats with a capacity of around 2000 so we had room to ask the audience to sit in every other seat giving them room to move. I started with a brief explanation of Laughter Yoga and the therapeutic benefits of laughter. I invited them to activate an attitude of childlike playfulness and showed them how to clap chanting ho ho ha ha ha. Then I jumped right into a few laughter exercises. We started with Greeting Laughter, and went on to do Milkshake Laughter, Cell phone Laughter and Gratitude Laughter. It was the first time all day that the audience had been invited to interact with each other. They were ready and willing to laugh. It was awesome hearing hundreds of people laughing right back at me for no reason.
Many people came up to me after sharing their delight and appreciation for my presentation. Most had never heard of Laughter Yoga before and I was swamped with questions about Laughter Clubs and invitations to present at a huge festival, a women's retreat, a company and a health care facility. I am looking forward to laughing with more large groups.
The Global Happiness Summit on October 9 and 10 in Alameda, CA is my next big event. Close to one thousand people will join together for happiness, joy and laughter. You can find more information about that event by going to the Events page on www.MoreJoy.org.