Laughter Yoga And Levity Project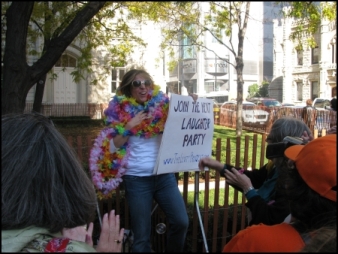 During Laughter Yoga teacher training and conference in New Mexico, USA in August 2010 Katie west and Ina Lukas from the Levity project organized a very special event which I would like to share with you. There was a group of more than 60 people from the conference and training who took part in this project.
There were three components:
Dance for no reason in a shopping Mall
Laughter party - in a public place on the roadside
You are amazing, Yay!
Dancing For No Reason
With full planning, all the group members decided to go down to Traders Joe, a shopping mall selling different kinds of food items at a wholesale price. All 60 members of the group entered the mall one by one in small groups and started buying food stuff. Suddenly, the leader Katie West started dancing without any music while picking up food items. Soon, other members of the Laughter Yoga group also started dancing much to the amazement of the other shoppers. It was really a treat to watch so many people dancing for no reason.
In this video you will see that even while waiting at the payment counters, people are dancing and having fun. The cashier is also enjoying himself and is enthusiastically participating in the highly amusing activity.
The entire operation was a memorable experience and took about 35 minutes. We got a positive feedback from strangers shopping at the mall as Laughter Yoga members explained the concept and how to find Laughter Clubs.
Laughter Party
The second part of the Levity project was a Laughter party at a public place on the roadside. After selecting the spot, Laughter Yoga members put up huge signboards inviting people to join the party. As more and more Laughter yogis gathered at the venue, they attracted many strangers and bystanders and even children. Everyone loved the idea and the session went on for about 15 to 20 minutes. Once again, we had a very favorable feedback from people walking on the road.
You Are Amazing, Yay!
In the third component of the project, the entire group was split into small groups of 4 to 6 people each. They went in different directions to greet strangers on the road and on meeting they would suddenly yell in unison - 'You are amazing!' Please see this video to enjoy this great idea of greeting.
Out of the three, my favourite video is dancing for no reason in the shopping mall. Please have a look at this above video and send us your feedback.