Laughter Yoga And Creativity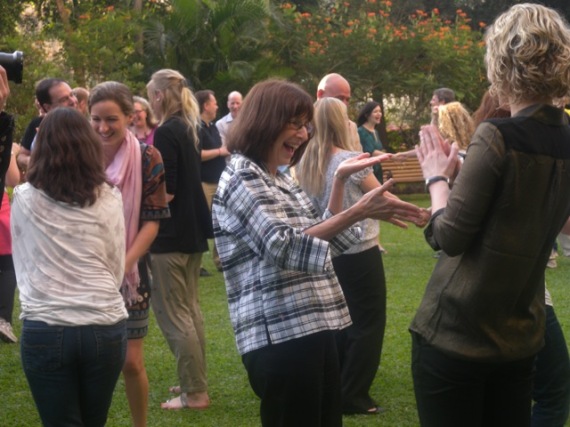 On February 3, 2011, I was invited to do a Laughter Yoga session with a group of people from an advertising and media company from UK, USA, Singapore, Europe, who had gathered for a brainstorming seminar in Hotel Oberoi, Mumbai. I was told they had a very stressful time discussing and making strategies and needed to relax and de-stress.
Instead of presenting the session in a traditional conference room with power point setup, I took about 50 people to the poolside garden. With a brief introduction on what is Laughter Yoga, I led them to 30 minutes of laughter exercises by the end of which everyone was sweating as if they had been to a gym. They felt most of their stress had melted away. Later, I explained what the role of Laughter Yoga in creativity is. Since people from the media and advertising need lot of creative ideas to stay ahead in competition, Laughter Yoga can play an important part in enhancing the creative abilities in a simple way as the essence of Laughter Yoga is childlike playfulness. It can help people create new ideas and insights about their business. In fact, according to Tony Buzan children use 92% of creative ability and adults only 22%, thereby making Laughter Yoga the best tool to enhance this ability as it uses play as its foundation, which can prove to be extremely beneficial.
I told the group that had they invited me on day one of their seminar they would have been laughing and playing right through their stressful two and a half days, and perhaps they would have come up with more insight and creative ideas. But, it's never too late ha ha ha…