Laughter Therapy Helps Work Environment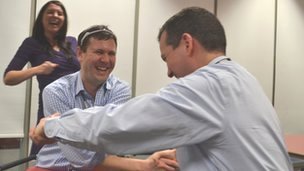 Recently, a group of BBC Scotland journalists had a great time with their short laughter session which established the fact that having a good laugh or even making a complete fool of yourself with colleagues really helps at work. The session proved that laughter therapy makes one more productive, boosts the energy levels and reduces absenteeism. Sharon Miller director of in-house training events specialist Joyworks, and an exponent of Laughter Yoga said that laughter workshops can have a real effect in workplaces.
The session began with a small group of journalists gathered somewhat nervously in a circle. They were asked to tell a cheesy joke or two to break the ice after which they got down to the serious business of a "laughter hello". The session leader shook hands and started to laugh, loudly and heartily for absolutely no reason. The handshake and the laugh were then passed around the circle. "It's like glue - Once you laugh with someone you're never the same again," says Sharon.
"You see your colleagues in a different light; it breaks down hierarchies, and reduces stress. It brings the whole team together, so any little niggles and petty things that are happening within the staff, you find after a laughter workshop they're dissipated and of course you're more relaxed and you're more creative," she added.
The participants did few other laughter exercises weaving in and out of colleagues, waving hands in the air and laughing wildly. "We're all a bit quiet and opportunities like that to break out of your comfort zone are really good," said one of the participants.
Article Courtesy: BBC News Scotland
Photo Courtesy: Gillian Sharpe