Going Strong At 95 With Laughter Yoga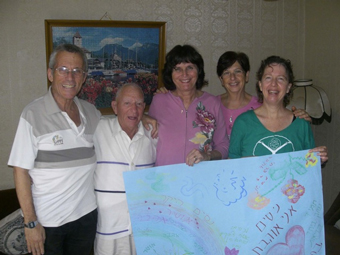 If you watch this gentleman in the You Tube link given below you won't believe he is 95! Good news is he is a Certified Laughter Yoga Leader and we bet he is going live for many more years.
Laughter clubs members in Jerusalem recently celebrated the 95th birthday of Nisim Salis, the oldest Laughter Yoga leader in Israel. Nisim has been practicing Laughter Yoga for regularly 5 years every week in the Jerusalem Laughter club with laughter teacher, Bat shachar weinfeld who trained him as a leader.
Nisim lives a very healthy lifestyle and takes no medicine. It is remarkable that at this age he has an excellent memory, goes for regular walks, does sports and even swims. He maintains a great discipline in life - doesn't smoke or drink alcohol and goes to sleep at 10 pm to get up at 6 am.
Born in Turkey, he is the head of the house committee for 40 years and speaks 7 languages. With two daughters, six grandchildren and 14 great grandsons, Nisim is very optimistic. He loves to laugh and play like a child with his great grand children.
His birthday was celebrated with Laughter Yoga exercises and Laughter Meditation. We all hope he lives till 120! and never stops laughing.