A few Ha Has Is All You Need For Good Health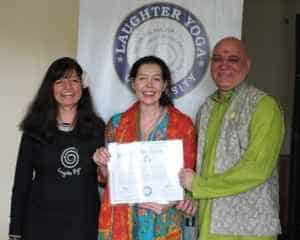 Research has shown that humor and frequent laughter is exactly what one needs to lead a healthier and happier life. Here is the story of Alexa Fong Drubay who went through trying times and an abusive relationship. She found comfort in Laughter Yoga which helped improve her overall-wellbeing and overcome depression.
Drubay travelled to Bangalore, India two years ago to be trained by the founder of Laughter Yoga,Dr. Madan Kataria. She said it was a fantastic adventure. On her return to the U.S., she started her weekly free laughter clubs. Her laughter sessions incorporate the four elements of joy which are clapping, singing, dancing and laughing. Since the heart rates goes up when you laugh hard, she uses deep yoga breathing to bring it back down. The class ends with a short meditation.
Drubay has worked with school children, seniors, corporate groups and more. Her Laughter Club draws all kinds of people from doctors and teachers to just everyday people. It is just for anyone that wants to learn how to laugh more to be healthier. "I teach people to respond differently to challenges in life. It really does incredible things and is really powerful," she said.
Source: https://pottsmercfit4life.wordpress.com/2016/07/15/laugh-it-up-for-good-health/