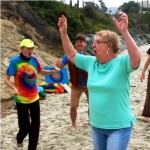 Carole Holcomb
2 Day Certified Leader Training
Date : Sept. 10, 2022 to Sept. 11, 2022
2 Day Certified Leader Training
.Join Carole Holcomb, Certified Laughter Yoga Teacher for 2 days of training, in-person! After the training
Who should attend?
Alternative Healers and Therapists
Recreation Activity facilitators
Occupational Therapists & Health care professionals
Social Workers and Counselors
Life coaches
School Teachers
Professional Speakers
ANYONE wanting to bring more laughter to their life, their community, organization or staff!
During this time you will learn:
How to lead Laughter Yoga sessions
Health benefits of Laughter
Breathing and relaxation meditations
Participate in 50-60 Laughter Yoga exercises
How to Create your own Laughter Yoga exercises
Adapting exercises to fit a theme
Solo Laughter
Laughter Yoga exercises for specific Communities (medical, seniors, children, etc.)
How to market Laughter Yoga to the Community you are interested in
And of course, your graduation!
Registration:PayPal at https://www.laughteryogafun.com/classes on my web site at https://www.laughteryogafun.com/.