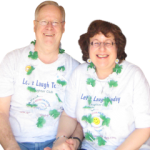 Bill and Linda Hamaker
5 Day Certified Teacher Training
Date : Aug. 2, 2023 to Aug. 6, 2023
5 Day Certified Teacher Training
We will teach you to have your own two day leader trainngs. We also mentor you afterwards to be sure you run successful trainings! You MUST be fully vaccinated or show proof of a recent Covid test done.This will take place in our home and we will take you to one or two laughter sessions in our town.
Trainings are led by Certified Laughter Yoga Master Trainers Bill and Linda Hamaker shown below. They have trained over 220 Certified Laughter Yoga Leaders and run 2 different laughter clubs. Bill and Linda became Master Trainers in March 2019 after working with Dr. Kataria over a period of a couple of months.They are the only couple in the world who have gone through this program together. They are the only Master Trainer Couple on the North American continent. They also are the only couple who run Couples Leader Trainings. They have a world of information to share with you!
Linda and Bill are graduates of both The American School of Laughter Yoga (2009) and The Dr. Kataria School of Laughter Yoga (2010) and they keep up on the latest information with Dr. Kataria. They have also trained with Jeffrey Briar of the LY Institute, are certified in Laughter Wellness by Sebastien Gendry, have had advanced training with Dr. Kataria, and have taken on-line courses from Steve Wilson's World Laughter Tour. Therefore they have a wealth of information to share with you! Linda is also a Reiki Master and Bill is a Systems Analyst and they both bring their unique talents to this training.
They founded the very successful Let's Laugh Today Laughter Club in Franklin, Massachusetts in September 2009, the Westwood Laughter Circle in 2010, Let's Laugh Today in Sharon and Let's Laugh Today in Walpole in 2012 and have been featured in many local newspapers, community television, and radio. They have been named Ambassadors to Laughter Yoga by Dr. Madan Kataria. They have been named Ambassadors to Laughter Yoga by Dr. Madan Kataria and are on the Laughter Yoga USA steering committee. They have presented at a number of Laughter Yoga conferences including most recently the Laughter Yoga Summit in 2016 and the First Annual Laughter Yoga USA Conference in 2017 at the request of Dr. Kataria. They have also facilitated many laughter workshops for private groups, health expos, wellness fairs, businesses and organizations.
After successful completion of this course you are qualified as a Certified Laughter Yoga Teacher (CLYT), an internationally recognized qualification. You must be a Certified Laughter Yoga Leader (CYCL) in order to take this course. After completing this training you will have deeper understanding of laughter yoga and will be authorized to train Certified Laughter Yoga Leaders.
Linda and Bill will show you how to add more laughter to both your private and professional life in the comfort of their lovely air conditioned home! Their combined knowledge and experience gives you a FUNtastic week-end of learning, laughing, and inspiration. Plus you will get to meet their puppies Giggles and Chipper. They are hypoallergenic and very cute (no more than 5 pounds), but if you would rather they were not at the training, please feel free to let us know.
Click here to see story about us and Laughter Yoga on Boston's NBC 10 that aired in April 2019!
See testimonials from Sebastien Gendry and Dr. Madan Kataria to the left.
Please email us with any questions as there is still room for YOU! We can arrange to talk on Zoom or on the phone if you wish.
1. How to lead a group of people through simulated Laughter Yoga Techniques developed by Dr Kataria, and skills of converting this simulated laughter into real infectious and spontaneous laughter without using jokes, comedy or humor
2. The powerful technique of Laughter Meditation, where you do not have to make any effort to laugh, and laughter flows like a fountain
3. How to do Laughter Yoga all by yourself
4. Organization skills & Leadership skills
5. Marketing, advertising & PR skills
6. Communication & training skills to train laughter leaders
7. Techniques for special groups (businesses, children, seniors and more)
8. Including Yoga Nidra (relaxation) in your sessions.
9. Scientific Research on Laughter and Laughter Yoga
10. and much, much more!
How You Will Benefit From This Training
You Will Know Laughter- You will get in depth knowledge about laughter and Laughter Yoga wisdom – how and why it works as well as the immeasurable benefits it provides for body-mind wellness.
You Will Learn To Do Laughter-Knowledge alone is not enough. You have to actually do laughter to experience the benefits. Laughter Yoga methods will give you guidelines and practical skills to do laughter in a group and once your body gets the intelligence of laughing without a reason, you can even laugh all by yourself anytime, anywhere.
You Will Learn To Live Laughter- Laughter is not just about learning and doing Laughter Yoga – it is about living it. If you are happy, but people around you are not happy, they will not allow you to stay happy for a long time. Therefore, it is imperative to bring happiness to others in order to find yourself happy. With our experience with Laughter Yoga, we found that once people start laughing on a regular basis, it automatically brings attitudinal changes in their behavior – They become more loving, caring and forgiving. Not only do they laugh in the laughter session; they carry the spirit of laughter throughout the day. So, don't you think it's time for you to do something and make a conscious effort to bring more laughter and joy into your life as well as that of others?
Cost: $995 includes spiral-bound training manual, folder of hand-outs collected from our years of experience, access to an on-line folder with many resource files including the training manual and Dr. Kataria's e-book Laugh for No Reason, many informative e-mails, light snacks, beverages, a spring water cooler; photos and videos of your FABULOUS week-end, and continued Laughter Yoga support from Bill and Linda.
You will be getting two teachers for the price of one!
There will be a Zoom lesson from Dr. Kataria!
A Certificate from Dr. Kataria's Laughter Yoga University signed by him and Maduri Kataria and Bill and Linda Hamaker will be handed out at the end of the training. A graduation ceremony with Pomp and Circumstance March, a free 1-year membership to Prozone (professional section of LaughterYoga.org a $100 value), an autographed copy of Dr. Kataria's Laughter Yoga book and a Pizza Night are also included.
To pay online go to http://www.letslaughtoday.com/teachertraining.htm