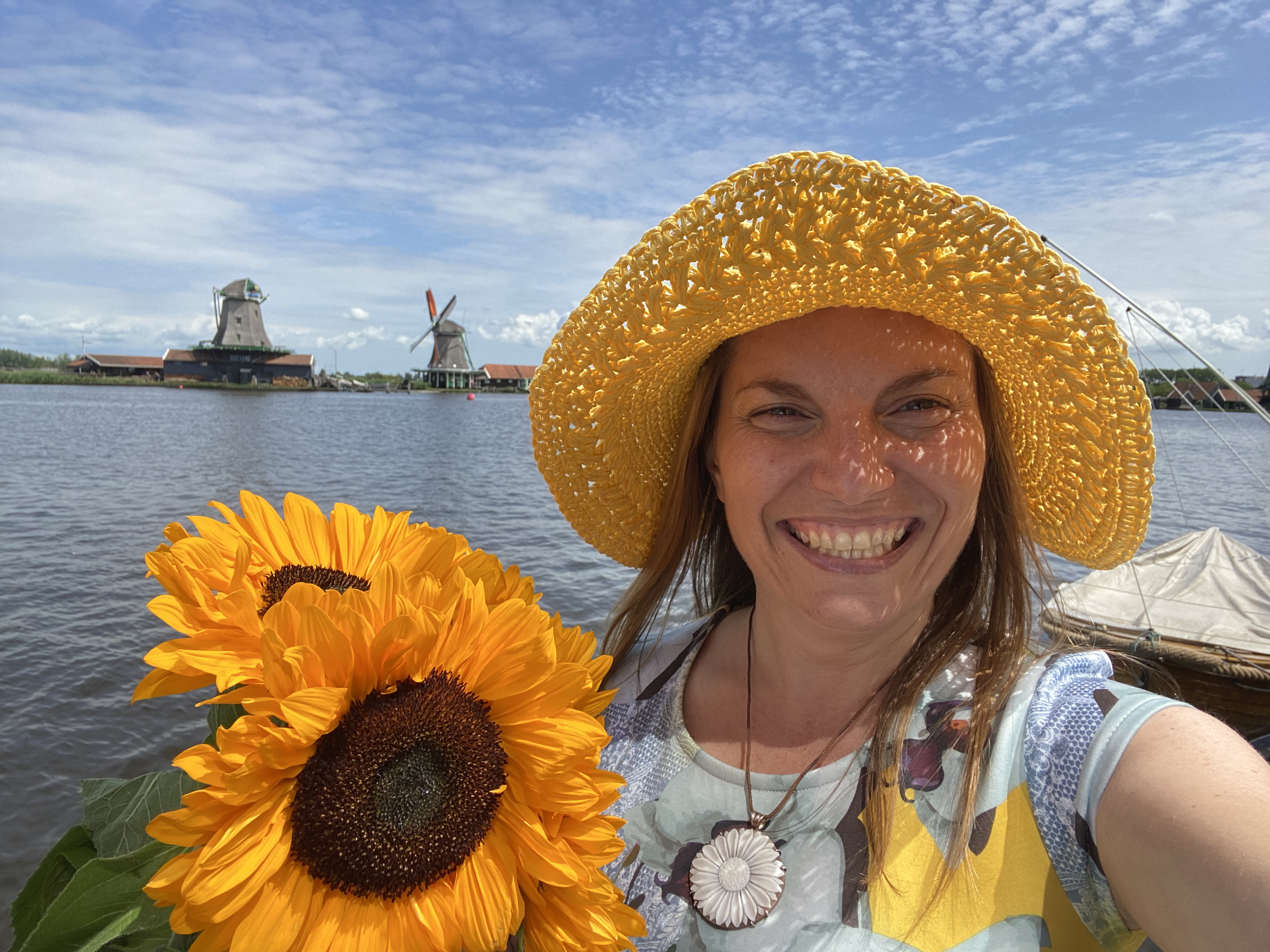 Rosaria Cirillo
2 Day Certified Leader Training
Date : Oct. 6, 2023 to Oct. 15, 2023
2 Day Certified Leader Training
See: https://wownow.eu/laughter-yoga-leader/
Laughter Yoga Training
Since Laughter Yoga is a unique concept, one needs to be trained as a Laughter Leader in order to facilitate a group through a Laughter Yoga session and meditation. Laughter Yoga exercises are tailor made to meet the needs of different such as Social Laughter Club, Corporate session, Schools, Seniors, and People with special needs.
There are 4 levels of training as designed and recognized by the Laughter Yoga Academy:
Basic Learning Course is designed to learn LY for yourself (we cover this in our Stress Buster Joy Blaster Program)
Certified LY Leader is designed to where you become a LY facilitator (see below more info about this one)
Certified LY Teacher Training you will learn how to train LY Leaders
Certified LY Master Trainer you will learn how to train LY Teachers
My journey to discover Laughter Yoga
Back in 2018, when I wrote Yellow Factor (formerly Yellow Goldfish) – which covers nine ways increasing H.A.P.P.I.N.E.S.S. in business can drive G.R.O.W.T.H., productivity, and prosperity for customers, employees, and society overall, Stan Phelps and I made quite a few references to the power of Laughter and we dedicate an entire chapter to SMILE (the final S in Happiness) because when we smile we activate hundreds of facial muscles and we send a message to our body to rebalance, to cultivate health and vitality, we feel inner joy and connection to others. You can read more about this in the blog post "The power of Laughter & World Laughter Day"
At the time of writing Yellow Goldfish, I thought that joke, comedy, or some other type of stimulus was needed in order to laugh. I first heard about Laughter Yoga in 2019, while I was looking for a laughter-provoking exercise to do during a Design Thinking Conference workshop. I found a great exercise on YouTube and I kept proposing it in my future sessions or workshops, but without further investigating what Laughter Yoga actually was (as I was actually set back by the word Yoga). It was only in 2021 that thanks to Lara Lucaccioni I learned that it is called Laughter "Yoga" simply because it combines unconditional laughter with yogic breathing, but there are no physical yoga positions involved (even though I also practiced and liked Yoga Flow, I had imagined that I wouldn't like a laughing version of Yoga). As I deepened my knowledge of Laughter Yoga with Dr. Kataria & Lara Lucaccioni, I started practicing it daily as of 13 April 2021. I started with the Inner Spirit of Laughter course directly with Dr. Kataria in April 2021, then became Laughter Yoga Leader in May 2021, and Laughter Yoga Teacher in August 2021. Since September 2021, I then continued to keep up my daily laughter yoga practice on Zoom at 7:30 (even when all I did was cry or crack a few smiles) with fellow Teachers from the Teachers Training course, and this daily laughter is a practice that very much contributes to my spiritual, physical, emotional, and relational wellbeing (the 5 elements of wellbeing I studied with Tal Ben-Shahar Happiness Studies Academy and I now teach in my open courses), even (and especially) in the most stressful time of my life, when my world was turned upside down last November as my husband got a sudden life-threatening illness and was away from home for 3 months. Since 2023, I also started running weekly FREE 30-minute "Laugh and Learn" sessions on Zoom. And I want to contribute to bring more laughter in the world with two more extensive training programs:
"Stress Buster and Joy Blaster": 6 weekly session program. Designed to improve your resilience to everyday challenges with practical knowledge to reduce stress and increase well-being by learning more about your mind, body, and heart.
16 hours Certified Laughter Yoga Leader Training Program: 4 sessions of ~4 hours + 1 session of 90 minutes. This training is the official training by Laughter Yoga Academy and is designed to learn the facilitation skills needed to lead a group of people through a LY session and meditation. You can start a Social Laughter Club or lead a session with companies and corporations. You will learn the concept, history, philosophy, and different steps of LY which includes 40 Foundation Exercises and how Laughter Meditation works. The training is run by Certified Laughter Yoga Teachers over 2 days or 12 hours. On completion, participants become certified as Laughter Yoga Leaders.
Our complete training offering
After 13 years in corporate in various customer experience roles at leading companies like Forrester Research, Adobe, and Philips, since 2014 I've been advising companies and training international professionals on improving Customer Experience, while deepening my knowledge in Happiness and Positive Phycology. Understanding emotions and building empathy capabilities are key competencies in designing and delivering remarkable customer and employee experiences.
Also, like everyone, I've had my share of struggles in my professional and personal life, and my personal wellbeing always impacted my professional performance. This is why I've taken lessons from burnout and mental health issues and invested in recovery and learning first, and now I share my knowledge and practices in the business world, evangelizing the key role of happiness and wellbeing in business too. The Science of Happiness, Positive Psychology, Non-Violent Communication, Mindfulness, and Intuitive Painting have been game-changers for my personal well-being. Daily practices of laughter yoga, qigong, and heart coherence boost my energy and happiness. You can learn about me and my journey here.
Combining my CX and Happiness knowledge, I created the Happiness Driven Growth Model, a holistic approach that focuses on maximizing the happiness of both employees and customers (so that excellence, profits, and loyalty follow as a result) starting from understanding and nurturing our physical and mental wellbeing as individuals.
Lifelong learning and sharing knowledge are two of my favorite activities. And with these new open programs, I want to support conscious leaders to understand and nurture enriching emotions and make happiness their competitive advantage in business and life. These programs are available as open to individuals or as in-company options.
Certified LY Leader Training Program
PROGRAM DURATION, DATES & COST
2 Day Certified Laughter Yoga Leader Training (CLYL) will take place over 4 sessions of 3,5 hours in 2 weeks and one extra session of 90 minutes 40 days after training completion.
Dates:
Session 1 to 4: Friday and Sunday: 6, 8, 13, and 15 October from 13:30 to 17:30 CET
Session 5 (review & experience sharing): Friday 24 November 13:30 to 15:00 CET
COSTS: 299€ exc. VAT
Sign up by sending an email to: rcl@wownow.eu
PROGRAM SCHEDULE
Session 1
Introductions: Teacher, Participants, and course. Personal story.
Laughter Yoga History: Cousins, Fry, Berk, Patch Adams e Madan e Madhuri Kataria
What is Laughter Yoga? 5 points, 3 reasons, 4 steps and 5 benefits
Key session: warm up, basic laughters, laughing meditation, humming
Laughing alone: how, when, where, 40 days challenge, buddy system
Assignment: laugh every day for 5 minutes and create a short video about what LY is and share in group
Session 2
Feedback
Laughter Yoga 5 benefits
Laughter yoga – the science of breathing
Scientific research on laughter yoga
Complete session: 4 steps, laughter and games, laughing meditation, Yoga Nidra
Assignment: laugh every day for 5 minutes and 1 minute a day with laughter buddy. Create a new laughter and share in the group
Session 3
Feedback
Unconditional Laughter 5 secrets
Session Structure – leader skills – advises & tips to facilitate laughter
Laughter Club: How it works, how to start it and why
Complete session: 4 steps, laughter and games, laughing meditation, grounding dance
Assignment: laugh every day for 10 minutes and 1 minute a day with laughter buddy. Create a new laughter and share in the group
Session 4
Feedback
4 Elements of Joy: laughter, play, dance, sing
Gibberish
Extra: 9 Factors of Happiness
Extra: introduction to chakras
Laughter Yoga in corporate environment
Laughter Yoga with old people and with children
Conclusions, commitments, certification and celebration
Assignment: laugh every day for 10 minutes for 40 days and 1 minute a day with laughter buddy.
Session 5
Feedback
Review of 40 days challenge
Q&A
As part of this course, you will receive:
Recording of all classes available for 3 months
Certificate (PDF): Laughter Yoga Academy Leader Certificate signed by LY Founder Dr. Kataria and course Teacher Rosaria Cirillo
Manual (PDF): Leader Training Manual
Registration on Laughter Yoga International Website, incl. a unique registration id, virtual card and 6 months access to LY Prozone area (which gives access to plenty of resources and worldwide community)
Book (PDF): Yellow Factor: Happiness in Business
When you complete the Leader Course, you can start your own Online or Physical Free Laughter Clubs as well as become eligible to train others on Laughter Yoga Basic Knowledge
Who Can Do This Course?
Yoga Teachers / Practitioners
Stress / Anxiety Sufferers
Pain / Health Problems Sufferers
School / College Students
Professionals / Business people
Trainers / Facilitators / Teachers
Performers / Speakers
Doctors / Psychologists
Social / Healthcare Workers
Everyone who is inspired to spread joy, happiness, and laughter in their lives and in the communities they live in.
Benefits Of Laughter Yoga
Laughter and Good Mood
LY releases endorphins from your brain cells, keeping you in a good mood all day long.
Exercise for Stress Relief
LY increases heart rate, blood circulation and relaxes muscles like aerobic exercise.
Health Benefits
You will not get sick easily and if you have a chronic health condition, you will heal faster.
Social Networks
Laughter brings people together and fosters quality caring and sharing among friends.
Attitude for Challenges
The power of laughter creates a positive attitude to cope with negative people and situations.