Touching Human Lives With Laughter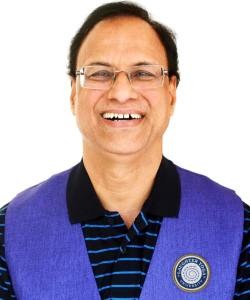 Jagat Singh Bisht, India: During the last hundred days, my wife Radhika and I have laughed with more than a thousand people. It has really been a life changing experience! We are now proud to have a life skill with us wherein we can connect to any group of people anywhere, anytime and make them laugh unconditionally. We feel cheerful throughout the day, and life is full of joy.
We have converted our bodies into factories that utilize oxygen from the atmosphere, rejuvenate each and every cell of our system and manufacture feel good endorphins. We are as healthy and energetic as one can be, and have not taken any medication since we turned 'Laughter Yogis'. We feel deeply fulfilled as we are instruments of happiness and health for others and are able to touch their lives with a new joyous way of life. Our lives now have a meaning and a mission – to make others happy and healthy!
I had my tryst with Laughter Yoga one fine morning in Mumbai, more than a decade ago when I joined Dr. Madan Kataria leading a Laughter session in Lokhandwala park. The experience was simply out of the world! But, I had to wait for almost 10 years to become a laughter leader. I have never looked back after that, and today we run two Laughter clubs – the Suniket Laughter Club and Laughter Club of State Bank Learning Centre, Indore – regularly.
Here are some experiences shared by the members:
Let us begin with ourselves. The pain in my knee joints is a thing of the past. I get up early in the morning every day and work till late at night without any feeling of fatigue. Radhika doesn't need her blood pressure pills any more and her frequents bouts of sinusitis has simply disappeared.
*************
Many among a group of newly promoted bank officers felt nervous to face the audience in their public speaking sessions. They were asked to join Laughter Yoga sessions, after which they shed all their inhibitions, and gathered the courage to speak freely.
*************
Another group was required to appear for a tough test for promotion to the next cadre. They felt tired at the end of the day, and had no energy left to study. Those who attended laughter exercises in the morning not only improved their attention span in classes but could also study for a couple of hours more in the evenings.
*************
An elderly businessman felt severe pain in his neck which traveled across his shoulders and back. The pain was acute and disabling. After he joined our laughter club, the pain is gone. He has developed a regular habit of getting up and going for morning walk. His wife tells us that he seldom laughed earlier and never mixed socially with people. She is pleasantly surprised at the transformation.
*************
An income tax officer, who retired recently, said that his lungs are fully cleared after a laughter session and the feeling of freshness lingers throughout the day.
We get feedback of feelings of well being, energy and health on a continual basis from our member friends.