The First Roving Laughter Report !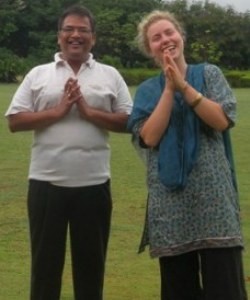 Michaela Pearson: Hello everyone, all over the world! This is the first, of I hope many "Roving Laughter Reports!" I hope that a Laughter yoga exchange program will develop all over the world and more people can enjoy an invaluable experience! Everyone enjoys the experience!
My adventure began with a late night train and after a train swap, I snuggled down (as much as was possible!) to catch a few moments of sleep before arrival, only to wake up 3 minuets past my stop! Ah!
This complicated matters somewhat! After a borrowed phone call, another stop, a rickshaw ride, a bouncing bus ride and finally I arrived at my destination. What an adventure, but really only the beginning ……… Torangallu is where Kiran lives, the founder of the Hampi Laughter club. My laughing weekend began!
During the two days, I participated in a variety of laughter sessions. Including laughing with working women, with specially abled children and taking part in the morning and evening daily sessions. It was a joy to take part in all of these different groups!
The first laughter session was with working women. These women work six days a week, for long hours programming on Computers. Krian had seen the need for Laugher Yoga here and the group
of 60 to 70 women now practices Laughter Yoga two times per week. Beginning the session with "Shyness laughter" just perfect for the situation! Kiran lead the group with natural ease and confidence, as he does in all the sessions. The group soon became more relaxed, but when we did "Greeting Laughter, east meets west" and I turned to the second group of women, silence rang … but for only split second. In that moment, culture, language, position, lifestyle, and beliefs stood stark between us and then…regardless of all of this, we all burst into laugher. Laugher broke these barriers. An incredible moment! We dramatically concluded with loud and boisterous "Lion Laugher!"
After taking a second shower in the sudden down pour of rain! We changed our mode of transport and arrived by Taxi to the Tamanna School for specially abled children. I especially enjoyed laughing with these children.
Starting with an easier version of "ho ho ha ha ha ha"and clapping, the class of 30 members all with varying mental and physical abilities took part in their individual ways. Even though not all the children were able to do the exercises, they enjoyed themselves any way. I think that for them hearing laughter is equally stimulating and valuable. The teacher now conducts a session everyday for 30 minutes. Drawing the session to a close, with hands in prayer position we all sang "Om". Simply beautiful! A sense of peace settled in the room. The sound "Om", the sound of creation is a powerful sound and the impact was felt by all.
After the session, Kiran and I sat with the children and joined with their daily afternoon activity, which is folding Newspaper into bags. These bags are then used in the local Bakery's and shops and the income is directly deposited into the children's individual secure accounts. While working with the children, we practiced Gibberish! Total fun and successful communication!
Kiran later explained that during the session, he had created a number of new exercises. Evidence that, a creative leader can use the structure of Laughter yoga and adapt to every situation. There is always room for expansion and change.
In the daily laughter yoga clubs, I experienced, first hand, the universal language of laughter! The evening group was all Indian women, beautifully dressed, I must add! To begin with, I was slightly hesitant and nervous. Was I intruding on their culture? Was it culturally insensitive for me to be participating? Despite this and the cultural differences, we shared something truly special. Without the use of clumsy words or introductions, union was found and I felt somehow close and connected to these women.
In addition to loads of laughter, it was wonderful to visit Torangallu and to have Kiran as a local guide. At the temple we watched, as people celebrating Krishna's birthday were busy building human pyramids, tying to reach the clay pot of yoghurt hanging over head! And in the local swimming pool, we had a tropical swim! I found the people were warm and friendly.
Kiran began the Hampi Laugher Groups in April 2011 and I think he has done a fantastic job and continues to do a fantastic job with enthusiasm and already has a list of new proposals.
It was so fabulous to see laughter yoga in action and the difference that it makes.
A huge Thank you to Kiran and the Hampi Laughter Group.