No Sleeping Pills With Laughter Yoga!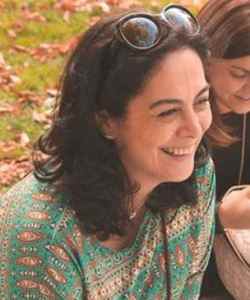 Erika Ruiz, USA: A recreational specialist for seniors at an adult day care center in Miami, Florida, my job entails planning and implementing activities for senior citizens—those with and without memory impairment. Always looking for meaningful activities, especially ones beneficial for Alzheimer's patients, I discovered Laughter Yoga which is a wonderful tool for those whose aging process has stolen their memory.
I started with only a general idea about Laughter Yoga but later had the opportunity to take a Laughter Yoga leader course. I began to notice what a blessing it is to apply Laughter Yoga in my patients' sessions, and the joy it brings to their lives—especially those who suffer from Alzheimer's. It is ideal because it's something that doesn't use jokes and humor to bring out laughter, and works simultaneously as an excellent cardiovascular aerobic exercise—even for participants in wheelchairs.
Initially, I lacked the motivation to attend the Laughter Yoga training course. Suffering from insomnia and consistently down and depressed throughout the day, I had great difficulty mustering up enough enthusiasm. As the day of the course approached I convinced myself its better not to attend the meeting because I was feeling sad and unmotivated and was truly not living up to the course title's standards, given that I was not happy with myself. But then I realized that I have already paid for it and have nothing to lose. So I packed my bags, and off I went.
As a first time participant in the course, I laughed so much that my abdominal muscles become sore! At the end of the day I returned to my room and before I knew it I was asleep… Despite my discomfort with the hotel mattress, I slept with no interruptions for the first time in a long time. I slept for almost 12 continuous hours without taking any pills. I didn't wake up during the night—not once! I couldn't believe it—It was a miracle!
Not only did laughing help me regain my rest and much of the happiness I'd lost along the way, it also helped me see life from a different perspective. And, as I began to view life in a simpler way, I become more tolerant.
I can state now with certainty that Laughter Yoga granted me an inner joy despite my circumstances at any given moment. On a professional level, Laughter Yoga allows me to help rescue the smiles and laughter of those for whom age has robbed much of life's joy and most precious memories.
On a personal level, I have made Laughter Yoga my life's mission because I know now that to laugh with the afflicted is as important as giving water to the thirsty. I have discovered, too, that the antidote to suffering from lack of sleep is indeed a laughing matter…
About The Author: Erika Ruiz is a Laughter Yoga World Ambassador passionate about joy and wellness. She has 30+ years experience with recreational programs for children, seniors and adults. Erika was inspired to develop "Laughter Dynamics" – a complete workout that combines brain fitness with laughing, singing, dancing, and playing. Erika's sessions are engaging, fun, and a great means of physical activity for anyone with or without cognitive impairments. Erika leads her Laughter workshops around the world, combining her talents with that of the wellness seeker, helping people to unleash their interior laughter. She is a member of the Association for Applied Therapeutic Humor.
Erika G. Ruiz
Laughter Yoga World Ambassador
www.risasaludyvida.com
er@risasaludyvida.com