More Positive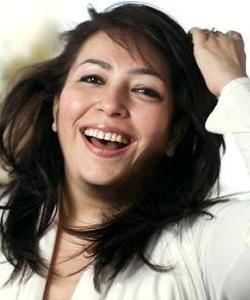 Anju Shahani, Moscow: Though originally from Mumbai, I have been living in Moscow since the last ten years. I experienced Laughter Yoga about 15 years ago when I visited Mumbai with my mother- in-law who was very active in the Laughter Yoga social clubs when they just started. In fact, I was even crowned a Laughter Queen one of the years! Hahaha. Just thought it was the silliest things to participate in, but to make her happy, whenever we visited India, I joined her in the early morning laughter sessions together with my husband and kids.
Then in October 2011 I came across a documentary on TV about Laughter Yoga, and said to myself "this stuff still exists". I googled it and found that it was prevalent everywhere except in Russia where they needed it the most as the people here hardly laugh. I immediately booked myself for the upcoming teachers training course with Dr. Madan Kataria in Jan 2012 and headed to Bangalore for it. I received my certificate on the 5th day which was the 13th January, my birthday, and I knew it was something with a universal message for me which came on such a special day.
Being a very spiritual person I was actually searching for something to nourish my soul. I had tried a lot of different courses, meditations, met a lot of spiritual gurus but there was always something amiss. The day I qualified as a laughter teacher I felt I had something very special to share with people. I was not sure what I was going to do with Laughter Yoga on returning home, but I truly believed there was something in it for me. I soon found my purpose in life when I realized there was nothing much happening in Russia with Laughter Yoga, and there were no formal clubs or sessions on a regular basis – I knew I was at the right place at the right time.
Everyone goes through ups and downs in life, and living in Russia with extreme climatic conditions and other difficult situations in relationship, I had witnessed all of it. In fact, for about 5-6 years I was taking antidepressants like Prozac, sleeping aids and was not happy with myself depending to a certain extent on these drugs.
Once I came back from Bangalore in January 2012, I was confident I had no problems with contacts and connections in Moscow to introduce Laughter Yoga immediately and it went just the way I expected, I was very happy doing one hour sessions at different clubs, fitness centers, yoga centers for free or for very small money, but the training and confidence I got was just so immense and valuable.
My patience level has tremendously changed and now I am now more aware of how I make others feel. I have become conscious that I don't want to see a sad face in front of me anywhere, and even if I do, I would like to make the person smile at least. I don't pay attention to my problems, my moods or negative emotions; I just start focusing on the better things I have around me. No more drugs like panadols, prozac etc . I am completely off them. My family in India is shocked to see me doing Laughter Yoga with various groups of people in a country like Russia!! They think I look great, happy and fulfilled-much slimmer. My students tell me I have lost a lot of weight since their 1st class with me, and I know it's true as I have pictures from my first class!
Besides the physical changes, I have also become more confident in dealing with people and I can talk better without fear even in a big group. Another change I am noticing is that there are certain unexpected doors the Universe is opening for me which I did not expect to happen at all ever in my life. I feel this is because of what I am offering to the Universe in the form of sharing laughter and happiness to people who need it. It is coming back to me in ten folds. I get goose bumps talking about it, but this is so true.