Laughter Yoga – Truly A Life Changing Experience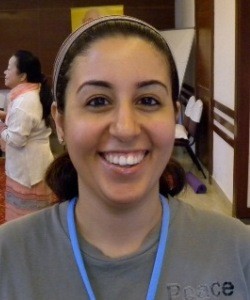 Khushmita Sanghvi, India: As soon as I completed my Certified Laughter Yoga Training (CLYT) course in June 2010, I felt a distinctive shift in my perspective in life. I had already made a huge leap of faith last year by quitting my corporate job and becoming a full time yoga instructor, but Laughter Yoga took my journey ahead by a thousand miles!
I felt so light and clear in my head when I returned from the training, and just knew that I had found my purpose to be on earth – 'To Spread Laughter'. The last two months have been a roller coaster for me as I started my own Laughter Club in Pune, which is getting stronger every week, and also did a few Laughter Yoga sessions with some NGO'S. I even landed up with a few corporate assignments which will further my cause to spread the word of laughter in different areas.
All in all I am grateful to reach out to more than 800 people in less than two months of Laughter Yoga Certification. I'm still laughing at destiny's little games but this time with complete faith in everything I do.
Khusmita can be reached at – khushmita@gmail.com