Laughter Yoga In Romania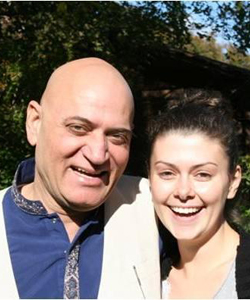 Roxana Badea, Romania: In September 2010 I read the book of Lenny Ravich," A Happy Thing Happened on the Way to Enlightenment" and then I had an insight – I can do much more that I actually do to help people! I soon founded an association called " Smile has no age"(its objective – animation of old people living in the fosters and people with disabilities). A few months later, wanting to know more about laughter, I found Laughter Yoga International and the announcement of an intensive training of 5 days in Interlaken, Switzerland, in October 2011 with Dr. Madan Kataria.
I spent one full night on their website reading and watching videos and I decided to attend the training. So I booked my flight ticket and there I was with 24 people from 12 different cultures sharing the same language: LAUGHTER! It was then that I rediscovered the treasure of laughing that was deeply buried in my soul. Since I was a little girl I had actually forgotten to laugh and had become a very serious child, but at the training I learnt that it was not about the sense of humor or the sound of your laughter – it's all about your attitude! While at Interlaken, I already envisaged my Laughter Club.
It was in my soul, in my mind and in my attitude. I was so impatient that I wrote to 3 friends telling them that as soon as I return from the training we have to see each other for a laughter session, and guess what? They agreed! So, the first day after my arrival in Bucharest, we had a meeting and started the work of spreading laughter through family, friends and people that I've never met before. We also conducted laughter sessions at hospitals (in the neurosurgery section with patients before and after surgery, and in the department of pediatric oncology with children and their mothers), with 14 children from an orphanage ,in a public market and at some workshops. My objective for this year is to further implement this concept in corporations, kindergarten and in wellness venues. One thing is for sure: I became a more cheerful person after embracing the laughter movement! ha ha ha…