Laughter Yoga Helps Transform Negative Energy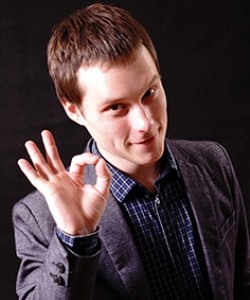 Zabotin Andrey, Moscow: I conduct the Osho dynamic meditation in a yoga studio in my city. Always on the lookout for something new for my participants, I stumbled upon Laughter Yoga where one had to just laugh for 30 minutes in order to get great health and spiritual benefits. It was a great idea. I felt laughter is what I needed. I went out to meet my wife and a friend to tell them about my exploration and we started to laugh, but it was not as easy as it looked like at first glance to just laugh. So I did some more research on YouTube and found Laughter Yoga teacher Robert Rivest from USA and decided to follow his exercises. I was highly inspired by the concept of laughing as an exercise and without any reason; I found it a lot of fun. It was what I was looking for, especially for the Russian people, who are rather serious and have to cope with a lot of stress. So Laughter Yoga became a breakthrough idea for me.
I invited my friend to try Laughter Yoga with me next morning; we did some exercises and laughed like children, and when I ran out of exercises, we started creating new ones. It was a game! We laughed for 30 minutes, and each minute my body and mind became more and more energetic, all problems became tasks seemed easy to cope with and my faith in Laugher Yoga became stronger.
Motivated by the worldwide spread of Laughter Yoga, I became a laughter teacher and started to bring more laughter to my life. Laughter Yoga was an impulse. Day after day doing laughter exercises, I became more open and kind to people, more smiling and negotiating, giving compliments to friends and strangers. It also made me more spontaneous and creative. My level of energy grew and negative attitude to some things got eliminated.
I am in some ways a spiritual person and I started to feel that laughter is a tool to transform any negative energy, which can occur in our life. In fact, my wife and friends noticed many positive changes inside me as well as in people around us. I understood the inner spirit of Laughter Yoga , which I wan to give as gift not only to the Russian people , but to the whole world.