Laughter Yoga helped me to Love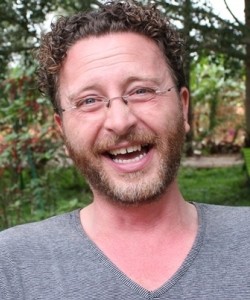 Richard Romagnoli, Italy: Becoming aware of laughter yoga for me was not a coincidence, but simply magic! I was doing shopping in a small shop in Puttaparthi (South India) and I noticed that there was a small book titled "Laughter for no reason".Since I was a child, I dedicate myself to the art of magic and illusionism, who for twenty years is also my profession (in Italy and around the world).Some years ago I founded a group of clown-therapy called Dharmic Clown and continue to train people who want to help people-in-need by donating their love through a smile.
When that book took my hand the magic began…
After reading it in one breath I decided to contact Dr. K I've met in August in Bangalore for five intense days. These days were fantastic! have exceeded my expectations. I never laughed so hard, and taste! The meeting with Madan made me understand how in love you can communicate with others, helping to improve the world and making our lives just as we would like.
Now that I've become teacher in LY (ah ah ah) I want to open the first club in Puttaparthi (Sai Baba's place) and continue to infect as many people as possible with the motto Love All Serve All and always laughing.
I'd like to meet other members of the Ly family in India and around the world to continue to laugh more and more intense… with a touch of magic!
My email is: magicrichardindia@gmail.com