Laughter Yoga Helped Me Reach Out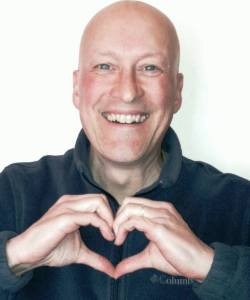 Robert Rivest, USA: My background is in the performing arts and I have been presenting comic health, literacy and stress management educational programs in schools, libraries and theaters for 28 years. I discovered Laughter Yoga 2 years ago when Mary Rives and Keith Carlson offered a free Laughter Yoga session at my performing arts guild. I loved it and felt great for even after several hours.
Highly inspired, I ordered and studied more about Laughter Yoga through books, CDs and DVDs. I started including Laughter Yoga "follow along segments" in my comic mime shows, health shows and stress management programs.
At about this time, I took my training as a Laughter Yoga Leader and set up a weekly Laughter Yoga Club and offered classes for senior centers. I also presented demos everywhere I could. Shortly thereafter, I attended Jeffrey Brier's Laughter Yoga Teacher Training and began presenting Laughter Yoga in corporations, schools, youth groups, hospitals, fitness studios, minimum security drug and alcohol rehab, as well as special sessions for teachers and care givers.
As an artist/educator I have presented programs for many diverse groups of people but Laughter Yoga has helped me reach and truly connect with even more people in a new, very profound, "magical" way.
Personally, the real benefits of Laughter Yoga came when I committed myself to practicing pranayama and Laughter Yoga every day. I have witnessed myself become more playful, joyful, generous, giving, friendly, peaceful and relaxed. I am more present with my family and friends. I had a difficult/distant relationship with my father and now he happily attends my LY class and we laugh blue eye to blue eye! (It has also been great for his Parkinson's disease). My younger sister attends my Laughter Club and my older sister is taking my next Laughter Yoga Leader training.
I am much healthier and get sick less often, can exercise more and breathe easier than ever before.
Professionally, I am much more understanding of my clients needs and "go with flow" with greater ease when surprise or undesirable situations occur. Laughter Yoga has been exceptionally beneficial for me as a performer and speaker. It has given me tremendous control of my breathing and vocal quality. I am able to give more of myself and be of greater service. Laughter Yoga as dramatically improved my ability to share love, joy and Laughter!
Socially, things have opened up for me too. I am a better listener now, more understanding and compassionate. People everywhere are friendlier to me and of course, I am absolutely thrilled to be a part of a social network of joyful, loving, laughing, sharing, caring, Laughter Yoga friends and professionals all around the world!