Laughter Yoga For Balanced Life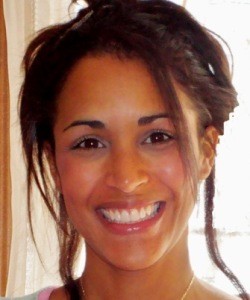 Johanne Bouchard, Canada: I started the Laughter Club of La Prairie-Montérégie, QC, Canada five years ago. As a leader, I like laughing weekly with the members and interacting with them. I even practice laughing alone together with proper breathing exercises and humming. This has made a significant difference to my body, mind and soul.
As a child, I lived with a single mother who suffered from manic-depression and because the subject was a total taboo with my family, I was left alone to cope with this reality. As a result, I learnt to deal with harsh responsibilities at an early age. This included taking care of my younger sister and trying to bring smiles and laughter in my mother's life, although my efforts were in vain. Consequently, I am now very aware of problems related to insecurity, exclusion and isolation. With time, I developed a real interest for global health and wellness. I must say that Laughter Yoga is one element, among others, which has contributed to gradually improving various aspects of my life.
Based on my life experience, I am totally convinced that, despite the harshness of reality, all is possible when it comes to rebuilding personal self-confidence and trust in others. My zest for life is back. I believe that Laughter Yoga is indeed a means to sustain an inner and outer balance to reach a balanced life. It then becomes much easier to deal with emotional upsetting events and getting used to capture their comic side instead of overemphasizing their tragic ones. Today, and with pure consciousness, I would like to share with all my heart and soul a time to allow people to find their inner peace and unconditional happiness.