Laughter Yoga connected me to Whole Body Peace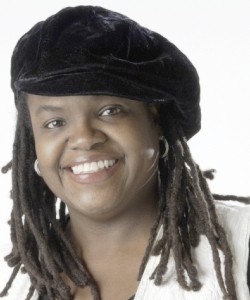 Karen Michelle Bayard, USA: I've always loved to laugh and found it everywhere. When my brother died of AIDS I felt emotionally derailed. My heart was heavy. I had so many questions, the greatest was, "Why didn't he tell me he was sick?" His death came as an awful surprise to our small family. I flew home and I am thankful I had 63 days with him to love him up, talk, laugh and say everything we wanted to say. After his funeral I went on a road trip, including a 10 day Vipassana. This was soothing to my soul. I thought I had made peace with it all.
A few months later, while cooking, a wave of grief gripped me. I dropped to my knees and fell apart on the kitchen floor. In the midst of my uncontrollable tears and guttural cries I found myself feeling at peace. "Weird." That's what I thought. Then a smile came over my face and I suddenly laughed out loud. How was I so very sad …and….OK….at the SAME TIME? "Weird!" It was a wonderful & strange feeling.
Soon after that I saw something about Laughter Yoga and decided to look into it. I went to the website & thought, "Oh yeah!" We didn't have any clubs in Utah at the time so I decided to make my way to Chicago for a training. I just had a feeling I was supposed to attend. So I started telling my friends I was going. Within 3 weeks I was gifted plane tickets, a place to stay and a car to use while I was in Chicago! During the training I had another experience of feeling "opposite" emotions at once. I also had a profound experience with how laughter could help heal the anger that accompanied the grief I felt around my brother's death. I was a comedienne but I liked how laughter yoga was different. So I decided to add laughter yoga to the career I was creating in whole body laughter. The idea of wellness and education through laughter, food and movement…in playful ways.
Since the Chicago training in 2009 I've been certified as a Laughter Yoga Teacher!! I now teach a 15 week/ 2 credit Laughter Yoga course at Salt Lake Community College. I lead community and corporate classes. I still write and perform one woman comedy shows….and…. I will be introducing LY to high school kids for a semester this fall!! I am also excited to be a new graduate student at Goddard College developing my own studies in PLAY as a foundation for wellness and education. I look forward to developing more programs at the college and high school level nationwide. I LOVE LAUGHTER YOGA and how it has enhanced my life! I am thankful to be able to share what I have and am learning about laughter and joy!
Karen Michelle Bayard CHHC, CLYT
(801) 898-3838
www.WholeBodyLaughter.com