Laughter Yoga Can Transform The World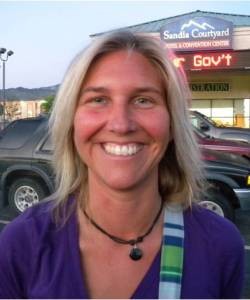 Ina, USA: After I returned from the Laughter Yoga training, my heart was filled with immense power, love and laughter. I drove to southern Minnesota to visit my in-laws in the rural town of Owatonna. Let's just say my husband's parents view the world through very different eyes than I do, so I often think that what I do seems a bit freaky to them, even though they love me very much. But, this time much to my surprise, my mother-in-law asked me to do laughter exercises with her book club members. So one Sunday afternoon, I sat around a table with 10 Minnesota grandmas, listening to their book discussion, then telling them about Laughter Yoga and doing a session with them. They were rolling and laughing and couldn't get enough. They want to bring it to their Women's Club of over 100 women ("where those women are just way too serious!").
After the women went out the door, my mother-in-law turned to me and gave me the biggest hug and thanked me. While this may not seem like that big of a deal, it was a huge bridge in our relationship. She then said she wants me to teach Laughter Yoga exercises to my father-in-law who is going downhill quickly with Alzheimer's. She wanted to do it with him to help his mind – this major breakthrough in my world brought rings tears to my eyes.
One of the many things I learnt from spending that week together with my family was the incredible power that Laughter Yoga has to really transform the world and open a whole new level of possibilities. I truly believe world peace can be created through the continual spread of Laughter Yoga.