Laughter Yoga Brought Great Joy In My Life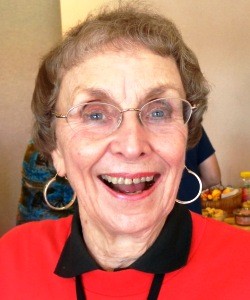 Marilyn Fogelquist, USA: I'm not a funny person. Neither can I tell jokes or remember them nor did I grow up in a home with humor. In fact, I didn't learn any skills for defusing conflict or dealing effectively with stressful events and as for problems at home; we didn't talk about them at all. As an adult, I gained skills for dealing with interpersonal relationships through my training as a clinical social worker. But even then humor did not become a focus in my life until the early 1980's when I had the good fortune to attend a conference on The Healing Power of Laughter and Play – Uses of Humor in the Healing Arts. Imagine sitting in the Westin Hotel in Seattle in a large conference room with 300 people stomping their feet and shouting "get that monkey off my back"! Ridiculous, but fun!
That was the beginning. For several years I presented Humor and Playfulness workshops in our local community. Next came clowning -10 years of clowning around with my Cascade Alley fellow clowns – nursing homes, picnics, parades.
It was in 2003 that I was introduced to Laughter Yoga and life has not been the same since. I did my first Laughter Yoga Leader training program the next year, promptly started a Laughter Yoga club, have continued my training and am now certified both as a CLYL and CLYT.
Laughter Yoga has brought great joy to my life and great pleasure, as well, having provided me with the opportunity and skills to bring laughter and joyfulness to so many people in our community. Laughter Yoga has also been a blessing in helping me deal with the lingering illness and death of a family member.