Laughter Yoga And Me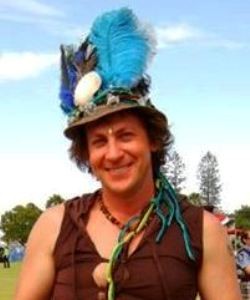 Peter Schupp, Australia: I was introduced to Laughter Yoga in a park by the Indian Ocean in Fremantle Western Australia by Laughter Yogini Kate Lee. I was not hooked straight away but it was only later when my partner organized a Laughter Yoga facilitator training course, I slowly realized the depth of benefits of Laughter Yoga and how many people could use this for their wellbeing, including my own!
I have always looked for a career in which I can use my personality and Laughter Yoga has captured my heart and soul. I have been working as a tradesperson in the air conditioning field for 16 years to date and I know how stress affects performance and workplace wellbeing. I have developed great skills in communicating to teach my apprentices and to relay my opinion to all levels of the corporate ladder. Now, I want to use Laughter Yoga in the workplace to change the opinion or culture that stress is to be respected and happiness to be judged harshly. I want happiness to be the highest goal of the workplace and seen as the most efficient and productive manner in which to work.
I have started the Indian Ocean Laughter Club which meets weekly and have enjoyed the highs and lows of starting a new club. The great benefits I have noticed for myself are the stress relief I get and the joy of passing on the Laughter Yoga philosophy. When you run a Laughter Club you get added benefits from the testimonials you get from your laughter clubbers. Having the ability to see change in people's lives is an awesome experience.Even my dear parents come down every week! Even if my father was a little slow to join, he has not missed a session since. He is someone that has a tremendously stressful work situation and watching it positively affect his wellbeing has been the greatest gift that Laughter Yoga has given my life. To extend his life and to see them both enjoying an activity together gives me great joy. It is great to see couples together at a Laughter Yoga session because you know that the ingredient of laughter in a relationship is so important.
The corporate work I have done has been very exciting! I even got the opportunity to facilitate a Laughter Yoga session for the cast and crew of Cirque Du Soleil to help them feel every possible emotional benefit and the obvious stress that they were elite performers. The session went really well and was a real highlight in my Laughter Yoga career.