I Learned To Laugh In Adversity With Laughter Yoga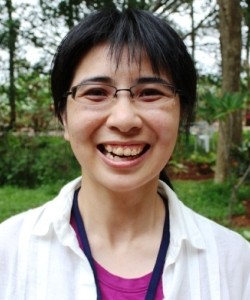 Natalie Lui, Hong Kong: Do you believe life composes different magic moments which lead you to the path of your dream? I do. I chanced twice upon Laughter Yoga before finally ending up in the Laughter Yoga Teacher Training Course in Bangalore.
Few years ago, I went for a social work seminar to Vancouver, which initially was quite a mess as I faced some visa problems and was not allowed into the country, and then the supervisor of the seminar had an accident and could not attend the workshop. To make matters worse, the practicum made me feel very stressful and unhappy as it was my first time alone overseas without the support of my friends and family. Fortunately, I joined a charity yoga event where I did Laughter Yoga which helped me to laugh even in such difficult times.
Eventually, I finished my practicum with fruitful and happy ending and returned to Hong Kong. I joined an awfully taxing career as a secondary school teacher. The endless work and high expectation deteriorated my health, which led me to change my profession and become a social worker of a parent support group in Hong Kong.
This too was not easy. All day long, I had to deal with parents of dyslexic kids and help release their tension and pressure. In trying to alleviate their worries and give them a positive mind-set I had to do a lot of research which led me to Dr. Kataria's video on Laughter Yoga exercises. Highly inspired, I wanted to incorporate the unique exercise routine in my sessions with the parents, but hesitated as my boss was a bit reluctant and felt laughing without a reason seemed too crazy. But, nevertheless, after some thought, I did include the Ho-Ho-Ha-Ha-Ha clapping activities in the session. At first, the parents thought it was stupid, but soon given the contagious nature of laughter and the group dynamics they learned how to laugh and relieve their stress.
It was after some months, while waiting in a yoga studio, I came across a small write-up about Laughter Yoga training soon to be held in Bangalore, India. Suddenly, my experience with Laughter Yoga was refreshed and I decided to train myself as a laughter professional. This was perhaps the most precious thing in my life and I believed it would prove very beneficial to the people of Hong Kong. I travelled to Bangalore for the Laughter Yoga Teacher Training Course, which made my inner child much stronger and helped me discover the joy of life with Laughter Yoga.