I Became More Confident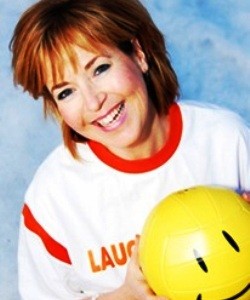 Sylvie Dagenais-Douvill, Canada: I had the chance to discover Laughter Yoga 4 years ago and have been promoting it full time for the last 2 years, after I lost my job unfortunately. I have since published a book for teenage parents with a full chapter on Laughter Yoga and how to use it has a tool. Shortly after losing my job, my 23 year old daughter moved away from home, and I know that it is with the power of laughter that I have been able to cheer her on in her new life and still be very positive.
I take my laughter programs to seniors home where I truly feel I am making a difference.
I also work with cancer patients, and can experience how Laughter Yoga gives them the strength to "be in the moment". Lately, I have started doing a weekly program with Alzheimer patients, and once more I am amazed at what Laughter Yoga has to offer to them. They are now sharing laughs with family and staff that also take part.
I started a monthly laughter group last year to give more and more people the chance to discover Laughter Yoga and its enormous benefits. Laughter Yoga is what keeps me "sane" happy, positive and healthy. It also helps me to sleep very well at night without worrying about things I can't control. Laughter has given me the confidence to do things I never thought I could. My wish is that one day Laughter Yoga will be seen as preventive medicine and will be covered by our health care!!!