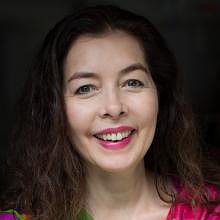 Alexa Fong Drubay
Certified Master Trainer
Services Offered
Physical Laughter Clubs, Online Laughter Clubs
My Profile
Laughter Yoga Master Trainer Alexa is American, (half Swiss and half Chinese). Actually, she is a triple citizen (USA, French & Swiss), speaks five languages, loves to travel, has lived in Baltimore, NYC, Beijing, Paris, Zurich and now in the Philly area.

Her travels and connections with various cultures have enabled her to gain a better understanding of how we are all one. She loves to meet new people and to develop new connections through laughter. After all, we all speak the universal language of laughter : )
With all the suffering, fear and malice in the world, there is a great need for lightness, positivity and laughter. Now is the time to open our hearts and minds and to becoming pro active for our health. Laughter Yoga offers so many benefits for body, mind and spririt. A daily, unconditional, mindful laughter exercise practice can help practitioners stay resilient in the face of adverstity, not to mention experience more playfulness and joy.
As a Laughter Yoga professional, Alexa works with all kinds of individuals and groups- from students to seniors and all types of healthcare professionals (nurses, doctors, therapists, hypnotists, social workers etc.), guidance counselors, teachers, yoga instructors, writers, clowns, musicians, the corporate world, private groups and others.
She leads bi-weekly laughter club meetings, presents customized Laughter Yoga sessions for all types of groups, presentations, workshops, laughter blasts, retreats and trainings.
Alexa is ready to share some Laughter Yoga for Stress reduction, resilience and well being with you!