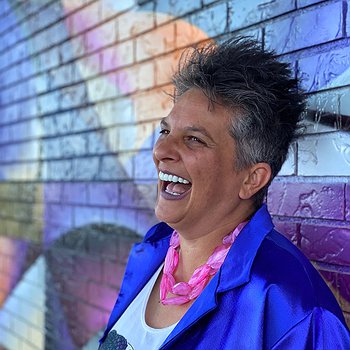 Angélique Doyle
Certified Teacher
Services Offered
Basic Learning Course, Physical Laughter Clubs, Online Laughter Clubs
My Profile
My name is Angélique Doyle. AKA Giggle Guru Angelique. I am a certified Laughter Yoga Teacher; yep, I am certified to help you learn to laugh for no reason. Laughter Yoga has been a powerful journey for me.
I found Laughter Yoga when I was amidst my toxic affair with depression. I was searching for a way to bring joy back into my life. My search leads me to become a Laughter Yoga Leader and then years later a teacher. I learned a lot about myself along the journey. Laughter allowed me to let go of inhibitions. It allowed me to be playful. I began finding myself smiling and laughing more often. As a result, joy began to pour back into my soul.
I love sharing Laughter, and you can find daily Laughter Yoga exercises over on my YouTube Channel.
https://m.youtube.com/channel/UCuK-sPmEU1-oS4g3hw-iRtQ
Reach out to me when you are ready to take your laughter practice to the next level. I offer a monthly Laughter Lab. Each month is unique in its offerings, focusing on moving through grief. That could be the loss of a job, loved one, pet, the identity of who you are. 2019 was a year of much suffering in my life. Then in 2021, I lost my BFF, best furry friend of 13 years. The message became evident that I needed to dive into how to move from Grief 2 Giggles. My very 1st Laughter Lab was online, which was a huge success. I have to admit I was reluctant to do this online with concerns we may not feel connected or supported. However, quite the opposite happened. Relationships began to form with the common theme of the Lab. It was magical and such a safe, supportive community. We had tears and lots of laughter. That was all I needed to know that online is a platform to reach many people. I have individuals from Ontario to Drayton Valley join in. I am excited to continue these Labs.

For more info on how to join a Laughter Lab, contact me via email: angelique.doyle13@gmail.com