Youngest Laughter Yoga Teacher at Age 11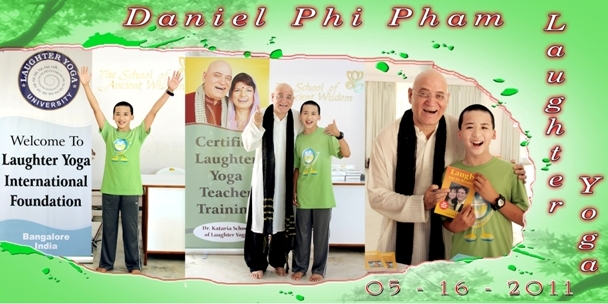 Daniel Pham, Antioch, California: I am 11 years old and the youngest certified Laughter Yoga teacher! This is my Laughter Yoga story.
I found out about Laughter Yoga in a peculiar way. When I was in 3rd grade, the teachers passed around a magazine in class which had an article on "Laughter is the Best Medicine", I was very intrigued by it as it talked about laughter and the many benefits of it - you could get healthier, less stress, and lose weight. For the next week or two, I kept thinking about the article as it lingered in my head.
A couple of months ago, my dad while visiting Vietnam was introduced to Laughter Yoga and he told me about this new exercise craze that could change one's life. I was very excited and thought it was so cool. We watched many videos and DVDs explaining what Laughter Yoga is and also practiced many exercises. Then one day, my dad surprised me by telling me that we would be training with Dr. Madan Kataria in India to get our teacher's training certificate! Though thrilled, I told him that I have school and many things to do. My mom and I were ranting about everything. But, then I thought maybe it will be worth it. With that, my dad, my mom, and I traveled to India and took the training course with Dr. Kataria at the end of which we were very happy and stress free. We could not wait to get home and start our Laughter club. Now, I am in the United States, happily trying to spread Laughter Yoga in my community.
Remember everyone, there is no age to learn laughter and do laughter - just laugh hohoho hahaha.