Unique Laughter Yoga Paintings In International Art Exhibition In New Delhi, India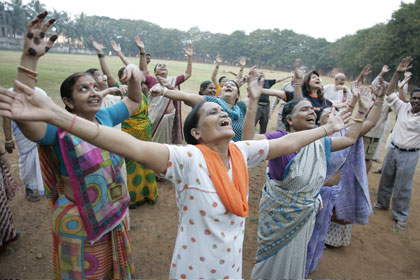 The organizers of an International Painting Exhibition in New Delhi, India have come up with a one of its kind idea of developing unique paintings from the experiences of people whose lives have been changed with Laughter Yoga. They have provided a special room to put up 20 paintings, which will be made with objects related to laughter.
To make possible this assignment, we are asking our club members what laughter has brought in their lives. What was their life before doing Laughter Yoga and where they are now? For example, one member from Hyderabad told us that before joining the Laughter Club he was suffering from hypertension, diabetes, asthma and joint pain. He was fed up of taking medicines, but ever since he joined the Laughter Club, his medication reduced significantly, and he is able to enjoy life like a normal person.
Extremely inspired, he went to the extent of changing his date of birth! He said that as the Laughter Club had given him a new lease of life, he will celebrate his birthday on the day he joined the club. To express his feelings and emotions, he sent us a computerized birth certificate, tablets and injections bottles, prescription etc. The artists in the exhibition will mount all these objects on a canvas with his message and display it in the exhibition.
Another lady said she had so much of pain all over the body that it felt like she was sleeping on a bed of nails. On asking what she can send us, she sent 500 g of nails! These nails will also be mounted on the canvas with her message on Laughter Yoga as a painkiller. Another person said that life is a blend of laughter and tears. When asked what objects best represent his feelings, he said he would be sending us some black and white balloons, which will be mounted on the canvas with his message.
One lady from North India said that Laughter Yoga helped to bring out the child in her. She was a very shy and introverted person before joining the club, and could not speak a word in public. But, all this changed when she joined the club which helped her to get over all her inhibitions and shyness. She is sending some toys, and a toy microphone to be mounted on the canvas.
Do you want to express your feelings in the exhibition?
Seeing the overwhelming response, the organizers of the exhibition were so inspired that they requested us to get similar objects from different countries to create their paintings. But, sadly, we have very little time as the project has to be finalized before January 7th, 2011.
But, where there is a will there is a way. If you could e-mail me ( mk@laughteryoga.org) the details of how laughter has helped you and what laughter means to you together with what objects best describe your feelings, we can buy the articles form India and send it to the organizers with your message, which will finally be displayed in the form of art. Later, all these paintings will be donated to the Laughter Yoga International University.
This is a great opportunity for you to act quickly and see your emotions and feelings expressed through canvas. These unusual pieces of art will be seen by tens of thousands of people from around the world. We will also be conducting a laughter session for I hour every evening for 10 days, where people can laugh and experience Laughter Yoga, as well as see the painting exhibition.