The youngest LY leader Girl in Iran and maybe in the World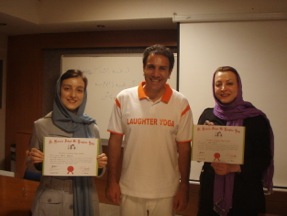 Majid Pezeshki, LY Leader and Teacher, Iran: In the latest LY leader training course that I hold in July, there was a young cute girl named Melania who had come with her mother to be a LY leader. Melania says: "My first name is Melania and my surname is Boghozian. I'm 13 years old. I'm so glad, that I could take part in laughter yoga classes, and also I'm so proud, happy and excited, that I'm the youngest laughter yoga coach in Iran and also in the world!!!
I think laughter yoga is very necessary for all our lives. I had a very good experience from these classes, and I learnt many useful laughing techniques which I can use them at any time in all my life. And now with laughing I can solve my problems when they happen and laugh at them. Laughter yoga classes also taught me another thing too; that I can laugh deeply, without a reason.
I suggest everyone to take part in these classes, because then we'll have a very happy world, without any tears.
First of all I want to say thanks to my dear God, who showed this way to me, then thanks to my precious mother who prepared for me this way, and finally thanks to my dear coach Mr. Pezeshki and his assistant Mrs. Sameni who kindly taught me in their best way and led me to make my life beautiful, lovely and happy with laughing.
Mr. Pezeshki you are so kind and lovely.
Ho Ho Ho Ha Ha Ha"