The First All Japan Laughter Yoga Conference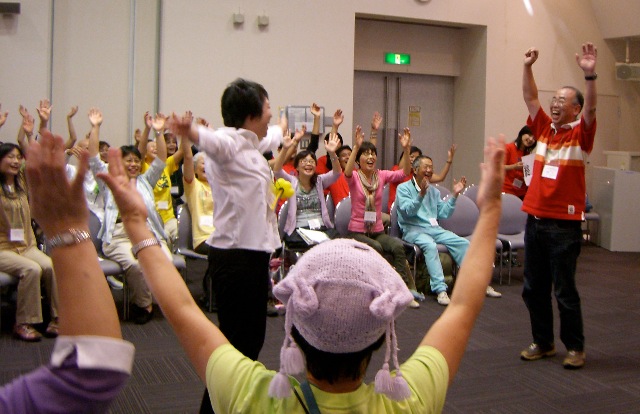 Report by Mary Tadokoro, Japan: Japan's first National Laughter Yoga Conference was held in Tokyo on September 25 and 26, 2010 with over 80 participants from all over Japan.
Dr. Kataria gave the opening keynote address, in which he emphasized how important it is to laugh daily to get the best results from Laughter Yoga. He spoke of the research with Laughter Yoga now in progress at Osaka University, saying the interim results are impressive. He also shared with us his dream for the Laughter University.
Dr. Madan Kataria, Japan Laughter Yoga Conference: Nine laughter leaders and teachers shared their experiences in bringing Laughter Yoga into their own lives, their communities, and their workplaces. Chikoto Sakamoto and Masako Yokoyama shared their life work of bringing joy to those close to them, sharing with us how laughter has helped them through the loss of children and parents. They went on to brighten up the room, teaching us playful new renditions of nostalgic childhood jingles and songs.
Harumi Ito and Kaoru Onaya talked about their efforts in Akita and Gunma prefectures, respectively. Both prefectures face poor economies, aging populations, and high depression and suicide rates. They both have spread Laughter Yoga through existing community welfare and educational services, each laughing with close to 2,000 people in less than a year.
Mikiyo Jonishi of Shiga prefecture spoke of how she has brought laughter to the deaf-mute, blind-deaf, and blind-deaf-mute people she works with. Through photos and real objects, she shared with us a multitude of pointers and ways she has come up with, through trial and error, to bring laughter to this population.
Dr. Shinkichi Eto works in the psychiatry department in a hospital. Alarmed by the high stress and burn-out rates of doctors and nurses, he had already set about creating a program within the hospital aimed to alleviate the stress and bring back the smiles of the staff when he came upon laughter yoga. He shared how he worked to document the stress levels of hospital staff, which subsequently led to the formation of a core committee to deal with the problem in a variety of ways, one of them being a weekly morning laughter session. He is convinced that once the staff is smiling again, it will promote laughter and healing among their patients.
University lecturer Gen Bando shared with us how he helped to transform, within a year's time, the atmosphere at one senior-care facility. He was presented the opportunity when his friend and ex-colleague, a doctor who was now in charge of this facility, started to show signs of depression and burn-out. His friend was at his wits end, faced with difficult residents and a high turn-over rate among his staff. Bando first set about helping the staff monitor and deal with their own stress. He then started to bring Laughter Yoga to the residents, training the staff along the way. He reported that from a stressed-out staff of 20 just one year ago, they are now a relaxed, smiling staff of just 12 -- more with less! And, from residents setting aside their wheelchairs and canes and walking again, to helping at least one resident remember that she has eaten, pre-lunch laughter yoga has brought a multitude of benefits to the residents as well.
Tomoko Chijiiwa works in human resources at the Peninsula Hotel in Tokyo. Becoming a leader just four months ago in May, she went about planting the Laughter Yoga seed among her colleagues and upper management and has held four introductory sessions with heartening results.
The final presentation was given by Tadao Okubo, who, at 80, is proud to be Japan's oldest Laughter Yoga teacher, but he can also be described as the "youngest at heart" as well. Inspired by Dr. K a year ago, he now sports a bald head to match Dr. K's, and his buoyant happiness is infectious. He shared with us the secret of that new-found happiness, showing us teaching after teaching on the wisdom of "letting go" -- not only of your toupee, but emotions and memories and other things you're attached to as well.
Participants spent the final hour and a half playing together like children under the direction of professional dance artist-workshop instructor Hideo Arai. Having arrived just before his presentation, he kept expressing amazement at the natural fluidity and creativity of the group.
And with that the conference closed on a high note, with promises to make it happen again.