Ten Years Of Bristol Laughter Club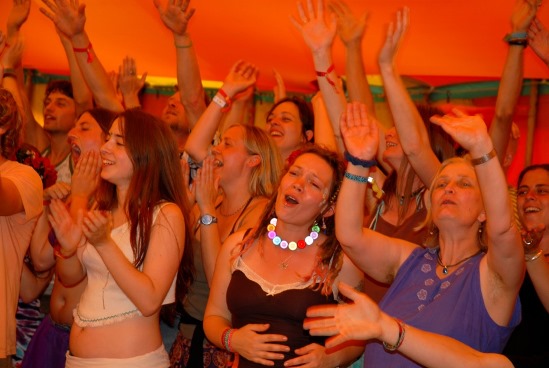 Joe Hoare, Bristol: The Bristol Laughter Club in UK will be celebrating its 10th anniversary on 17th September, 2013. This makes it one of the longest-running series of regular sessions outside India. 11 years ago, in 2002, I had the pleasure of meeting Madan Kataria for the first time in the UK. It was such a fine experience that I invited him to Bristol the following year where, through the good offices of the Pierian Centre, I was able to organise some fantastic laughter sessions which everyone loved. Seeing the great response I was inspired to the Bristol Laughter Club, aptly named by Dr. Kataria.
For our 10th anniversary, I am delighted to say that Madan has agreed to do a live skype video link. People who've heard me rabbiting on about him for years will have the chance to see and hear him live.
We meet every month, on the 3rd Tuesday evening, 7.30-9pm, and after the initial trialling-it-all-out period during which numbers once dropped to just 1 person, there is now a regular core of the 20-30 who come every time. We have been filmed several times, most famously by Dr Alice Roberts for her BBC2 series 'Don't Die Young'. The work of the Bristol Laughter Club is at the core of the recent documentary 'The Best Medicine' which has just had a BAFTA screening in London. There have been countless radio interviews, and it provides essential exercises in the book 'Awakening the Laughing Buddha within' which I co-authored with the Barefoot Doctor.
My advice to everyone running a Club is to have perseverance. To build something up, you have to keep going. You also have to be flexible to the group's needs, and provide something people consider valuable enough to want to keep coming back month after month.And of course, you yourself have to love it, and need the genuine enjoyment that inspires others to take part whole-heartedly.