Seniors Laugh Their Way To Good Health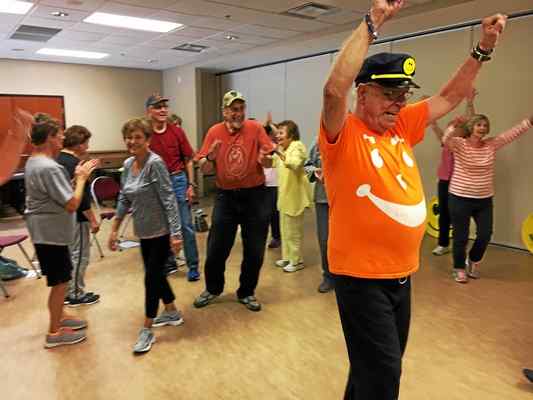 A number of Laughter Yoga sessions were recently introduced at the Sterling Heights Senior Center in Michigan. Led by Rhonda Diamond along with Ray Wojciechowski, a clown and comedian who has practiced Laughter Yoga for a few years, these sessions have seniors laughing and chuckling uproariously while doing different laughter exercises.
The participants sing and dance to popular songs and indulge in a lot of fun as they practice Laughter Yoga. The laughter — an enunciated "ha, ha, ha" becomes deafening at times. To an onlooker, this may seem a little strange, but there's purpose in all of this 'silliness'.
Laughter Yoga is an ideal exercise for elderly people because it is not just physical exercise, but connects the body, mind and spirit. The exercises are adaptable to all levels and limitations of cognitive, sensory and motor ability and do not require any ability to tell jokes or perform humorously. They provide a simple, structured, playful routine that is based on sound scientific principles, which helps to lift the spirits of seniors. Unlike traditional yoga, there's no holding poses, sitting on mats, or even workout clothes. The only thing participants hold is laughter.
"I'm 74 years old and I don't take any medications. No meds," Wojciechowski said. "I also haven't had a cold in five years. I believe in this."
Laughter Yoga has both positive physical and psychological effects as it reduces stress, strengthens the immune system, and even helps reduce high blood pressure and heart disease. It also has the ability to alleviate anxiety and depression, both of which are a hampering factor in the elderly. Regular laughter practice ensures a better state of mind, which brings more happiness and joy in their life.
Photos Courtesy: Debra Kuszubski
Article source: http://www.dailytribune.com/lifestyle/20171019/laughter-yoga-is-a-uproarious-side-splitting-workout