Nestle India Completes Goodness With A Good Laugh!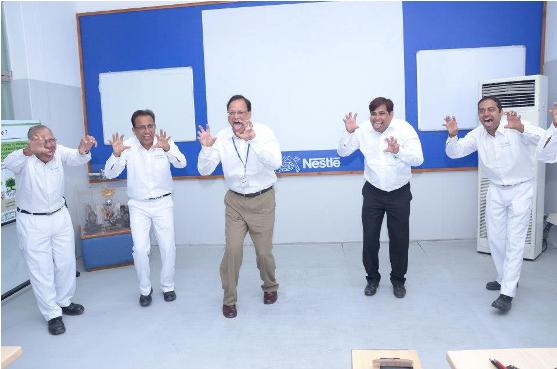 Jagat Singh Bisht, Certified Laughter Yoga Teacher, Indore recently organised a Laughter Yoga session at the Nestle factory in Samalkha, Haryana, India, with a view to enhance employee wellness and spread good health, joy and happiness among them.
Three laughter sessions of two hours each covering their entire office staff (approximately one hundred) and the heads of departments including the factory manager were conducted. The staff felt the positive effects on their bodies and mind immediately after the first session. The profound impact of Calcutta laughter, Hearty laughter and Lion laughter was obvious to them. They felt fully relaxed and were full of joy after the session. They could also appreciate the benefits of Laughter Yoga towards improving efficiency, reducing workplace stress, team building, developing leadership skills and opening up communication skills.
Looking to the huge positive impact of the laughter sessions, it is proposed to conduct more intensive and extensive Laughter Yoga and meditation sessions for their workmen (approximately four hundred) in the near future to bring physical, mental and social wellbeing and create a more positive work environment with the magic mantra of 'very good very good yay' all the way!
It may be recalled that earlier Nestle had invited laughter professors Radhika Bisht and Jagat Singh Bisht to conduct a Laughter Yoga session during their safety, health and environmental sustainability (SHE) workshop for zone Asia-Oceania-Africa (AOA) at Marriott Resort & Spa, Goa. The response to the session was overwhelming and the chants of 'very good very good yay' echoed all through the workshop. The audience included the executive vice president from Nestle headquarters at Vevey, Switzerland and market corporate safety managers from 20 countries including Australia, China, Egypt, India, Indonesia, Japan, Malaysia, Philippines, Singapore and Turkey, along with factory safety heads from Bangladesh, India and Sri Lanka.
Nestle is a well known and respected name worldwide for 'Good Food, Good Life'. The new programme undertaken by Nestle India is a noble initiative indeed.