Learn How To Laugh Your Worries Away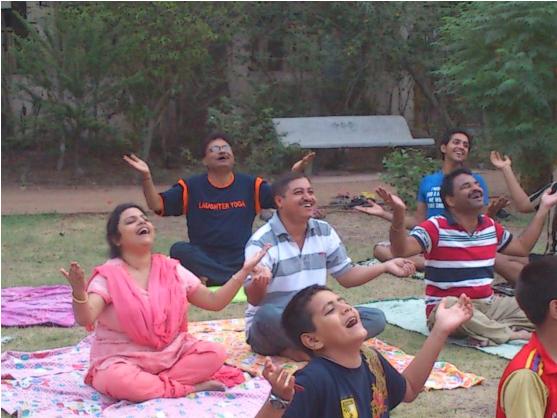 For the last 104 weeks, the residents near Suniket park Saket have been looking forward to waking up early on Sundays for the 'laughter get- together'. Neither rain nor cold or heat have interrupted these sessions as 'Suniket Laughter Club' completed two years on October 17.
With the crème de- la crème of Indore opting for this lighter way of exercise, the club has become a close knit family with over 40 permanent members, including income tax officers, managers, builders, industrialists, businessmen, school principals and their kin.
Certified Laughter Yoga professors, assistant general manager (training), of SBI Jagat Singh Bisht and his wife Radhika Bisht started the club for the residents of the Suniket apartment.
Later, as the word spread, people started joining from the other areas as well. "We now have people coming from all parts of the city. Nearly 30- 40 members come every Sunday. In fact the punctuality of this club is what makes it stand apart," says Jagat who has plans to cut the 'laughter cake' on Sunday to mark the club's birthday.
As the family grew, the members did not limit the meetings to laughter exercises only but also began sharing the happy moments. "A few of our members have opened new businesses in the city. They invite the club members on such occasions. We visit their families during a fest," says Jagat. He adds that Laughter Yoga helps in relieving stress and the members have seen a change in their way of working, their take on their routine activities and now feel healthy, both physically and mentally.
This year, the club members would have a special laughter session during which they would celebrate with its members aged between 3 to 90 years. "We have members of all age groups. We have grandparents, grandchildren coming together and many working class people and housewives," says Jagat.
The female club members also have yoga sessions everyday with Radhika and then have a get together on the last Friday of every month.
"Our club believes in spreading happiness. Most importantly these members have been attached with us for a long time for they have felt the benefits of laugher yoga and hence the number of members has been increasing ever since its inception," Jagat added.
Courtesy: Hindustan Times, Indore, 21st October 2012