Laughter Yoga With Seniors In Germany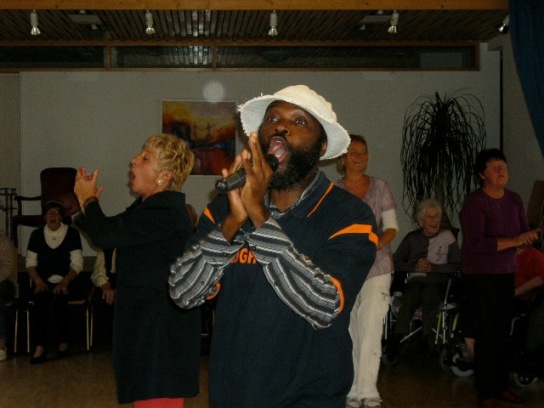 Laughter leader Ikechukwu recently conducted a laughter session for seniors in St. Martins Caritas Home in Lindenberg. There were more than 30 people on the wheelchair, while about 40 were seated and some assisted Ikechukwu who had to invent almost all exercises to suit everyone present. The event was a great success and everyone laughed and had fun from start to the end.
During the session, a woman wanted to know if she could laugh because she was very depressed, and Ikechukwu told her that though she should not force herself to laugh, she can imagine laughing with the whole group from time to time. At the end, she felt she was the happiest woman and said, "I was heavy when I came here, but am going home like a feather!'' Other participants also felt the same and said they had a lot of fun. In fact, the manager of the home said, '' I felt emotionally sad at the beginning, but now I am so happy that I cannot stop laughing", and she kept shouting ho ho ha ha ha ho ho ha ha ha ho ho!!!