Laughter Yoga With Philippine National Bank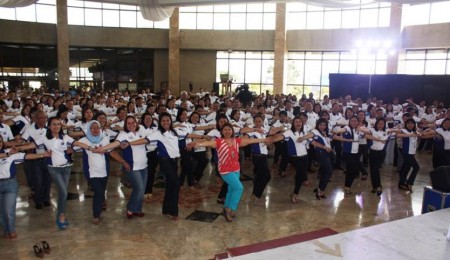 Report By Elvie Punzalan-Estavillo
I recently conducted a Laughter Yoga session with almost 600 employees of the Phillipine National Bank (PNB) in order to help them get de-stressed and experience the benefits of practicing unconditional laughter.
The minute I went up on stage there was an instant connection with the participants who laughed at my laughter. They did many Laughter Yoga exercises and some deep breathing exercises to oxygenate the cells in the major organs of our bodies to prevent sickness and illnesses. They also recited the positive chants heartily and energetically thoroughly emjoying the session.
To make the event more fun, colorful and innovative, we did the Cha Cha dance to the beat of ho ho ha ha ha, and the participants roared with laughter. This made the Laughter Yoga session awesomely enjoyable, something to relish for a long, long time. The participants realized
that Laughter Yoga is not just a laughing-stress-relieving session, but a life-changing experience that touches the mental, physical, emotional and spiritual attributes of a person.
Laughter emits a magical; healing power that improves health and wellbeing. It boosts the immune system, as it releases endorphins - the "feel good" hormone which makes people happy; their minds become open, ideas flow in easily and their thinking becomes positive. Moreover, their mood becomes pleasant and disposition more jovial, thereby promoting harmonious relationship in their work place.
Some inspiring and positive comments from the participants:
Nelda Casas – The session was fun, relaxing and educational.
Christine Marie Rillera – The Laughter Yoga session was very relaxing, a genuine stress-buster! The lessons learned on illness prevention can be very helpful and guarantees cure without the use of drugs, thus curing the natural way.
John Mariano – It made me feel happily crazy.
Myrna Ganon – The Laughter Yoga session was very relaxing. I really enjoyed it.
Yoganne Samera – I loved the session! It gave me a simple and practical tool to cope with stress and tensions. It will be my emergency kit for free.
Visitacion Peñalosa – It is very true that laughter is the best medicine. It keeps you young and makes you enjoy life despite difficulties.
For more info, visit www.laughteryogaphils.com. To laugh, visit lycphohohahaha.